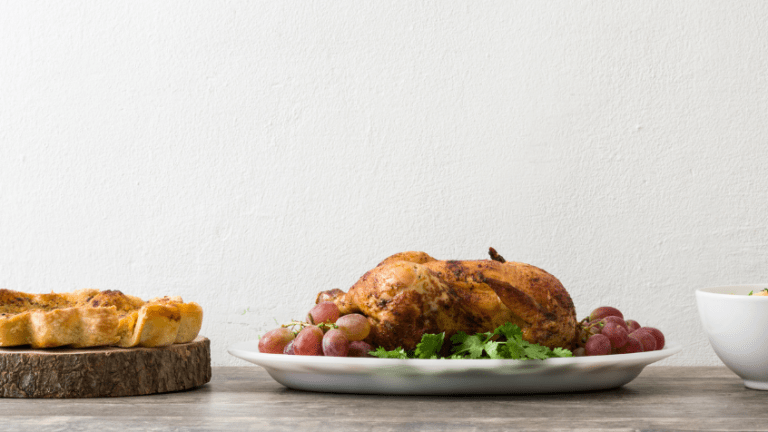 Thanksgiving Turkey Preparation Safe Thawing Basics
There are three safe ways to thaw your turkey: in the refrigerator, in cold water, and in the microwave oven.
In the US, about 280 million turkeys are sold for the Thanksgiving celebrations. This year, we invested in a local farmer to grow our turkey for us. In a week or two we will pick up our home-grown bird from Ellen's Overlook Farm in Vermont.
As I prep for our first Thanksgiving in Vermont, I thought I would share the basics on thawing your turkey. Turkeys must be kept at a safe temperature during "the big thaw." While frozen, a turkey is safe indefinitely. However, as soon as it begins to thaw, any bacteria that may have been present before freezing can begin to grow again. Let's go over the rules of turkey prep. There are three safe ways to thaw your turkey: in the refrigerator, in cold water, and in the microwave oven. 
Related: Thanksgiving gratitude free printables
When you get your turkey, either from a local farm or your grocery store, you'll want to store it in the freezer until you are ready to start the thawing. A package of frozen meat or poultry left thawing on the counter for more than 2 hours is not at a safe temperature. 
Even though the center of the package may still be frozen, the outer layer of the food is in the "Danger Zone" between 40 and 140 °F — at a temperature where foodborne bacteria multiply rapidly. Though tempting to save space in your fridge or freezer, frozen turkeys should not be left on the back porch, in the car trunk, in the basement, or any place else where temperatures cannot be constantly monitored.
Refrigerator Thawing of your Turkey
You'll need to give yourself a bit of planning to thaw this way. I recommend putting something in your calendar as a reminder to start the process. Allow approximately 24 hours for each 4 to 5 pounds in a refrigerator set at 40 °F or below. Here are some general guidelines:
4-12 pounds: 1-3 days
12-16 pounds: 3-4 days
16-20 pounds: 4-5 days
20-24 pounds: 5-6 days
Refrigerator Thawing Steps:
Place the turkey in a container to prevent the juices from dripping on other foods.
Follow the timeline above.
A thawed turkey can remain in the refrigerator for 1 or 2 days before cooking.
Turkey Fun Fact: Here's another fun fact, domesticated turkeys can't fly. Wild turkeys, however, can fly for short distances at speeds up to 55 miles per hour. They can also reach speeds of 25 miles per hour on the ground.
Cold Water Thawing
Cold water thawing is a little faster, but definitely messier. With this method, you'll need to allow about 30 minutes per pound. A turkey thawed by the cold water method should be cooked immediately. After cooking, meat from the turkey can be refrozen.
Cold Water Thawing Times
4-12 pounds: 2-6 hours
12-16 pounds: 6-8 hours
16-20 pounds: 8-10 hours
20-24 pounds: 10-12 hours
Cold Water Thawing Directions:
First be sure the turkey is in a leak-proof plastic bag to prevent cross-contamination and to prevent the turkey from absorbing water, resulting in a watery product.
Submerge the wrapped turkey in cold tap water.
Change the water every 30 minutes until the turkey is thawed.
Cook the turkey immediately after it is thawed.
Microwave Thawing Method

And finally as a last resort, you can (though probably shouldn't, it'll make the meat tough) microwave the turkey to defrost it. Warning: it might not fit in your microwave. The USDA says to start by removing all outside wrapping and place the turkey on a microwave-safe dish to catch any juices that may leak. Use the defrost function based on weight. As a general rule, allow 6 minutes per pound when thawing a turkey in the microwave. Be sure to rotate it several times, and even flip it, during the thawing process.
No matter how you slice it, turkey is a big part of our Thanksgiving tradition, I hope these safe cooking tips help you in your prep. For cooking tips, Butterball is a great resource and they offer a helpline at 1-800-BUTTERBALL. And we have this terrific post on how to safely fry a turkey here.
MORE THANKSGIVING INSPIRATION FROM MOMTRENDS
PIN IT!
For more Fall crafting fun, be sure to follow our Fall Thanksgiving & Halloween board here.
Momtrends was not paid for this post. Information from the US Department of Agriculture Food Safety & Inspection Services.