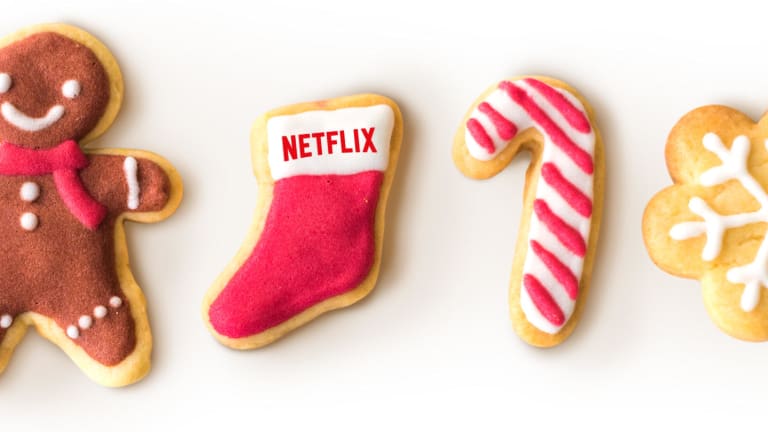 Tap into Seasonal Joy with NEW Netflix Holiday Titles
Whether you want a joyful musical comedy, magically festive romance, or delicious sugar fix, Netflix NEW holiday titles have just what you need to celebrate the most wonderful time of the year.
Are you ready for some holiday cheer? Yep, we all need more happy endings. Today, Netflix is merry to announce and debut holiday series and film release dates, first look images, posters, trailers. It's time to tap into seasonal joy with these NEW Netflix holiday titles.
Related: Amazon's best Advent calendars
Whether you want to bond as a family with a joyful musical comedy, relax and escape with a magically festive romance, or enjoy a satisfying binge with a delicious sugar fix, Netflix NEW holiday titles have just what you need to celebrate the most wonderful time of the year.
Holidate
Sloane (Emma Roberts) and Jackson (Luke Bracey) hate the holidays. They constantly find themselves single, sitting at the kids table, or stuck with awkward dates. But when these two strangers meet one particularly bad Christmas, they make a pact to be each other's "holidate" for every festive occasion throughout the next year. With a mutual disdain for the holidays, and assuring themselves that they have no romantic interest in the other, they make the perfect team. However, as a year of absurd celebrations come to an end, Sloane and Jackson find that sharing everything they hate may just prove to be something they unexpectedly love. Available October 28
Operation Christmas Drop
Chasing a promotion, congressional aide Erica Miller forgoes family Christmas to travel across the Pacific at her boss's behest. Upon landing at a beachside Air Force base, she clashes with her guide, Captain Andrew Jantz, who knows her assignment is finding reasons to defund the facility. The pilot's pet project — Operation: Christmas Drop, a genuine, decades-old tradition where gifts and supplies are parachuted to residents of remote neighboring islands — has lawmakers wondering if his unit has too much spare energy. Despite their initial opposing goals, Erica softens once she experiences the customs and communal spirit of Andrew's adopted home. Available November 5
Jingle Jangle: A Christmas Journey
A musical adventure and a visual spectacle for the ages, Jingle Jangle: A Christmas Journey is a wholly fresh and spirited family holiday event. Set in the gloriously vibrant town of Cobbleton, the film follows legendary toymaker Jeronicus Jangle (Academy Award winner Forest Whitaker) whose fanciful inventions burst with whimsy and wonder. But when his trusted apprentice (Emmy winner Keegan-Michael Key) steals his most prized creation, it's up to his equally bright and inventive granddaughter (newcomer Madalen Mills) — and a long-forgotten invention — to heal old wounds and reawaken the magic within. From the imagination of writer-director David E. Talbert and featuring original songs by John Legend, Philip Lawrence, Davy Nathan, and "This Day" performed by Usher and Kiana Ledé, Jingle Jangle: A Christmas Journey reminds us of the strength of family and the power of possibility. Available November 13
Dolly Parton's Christmas on the Square
A rich and nasty woman, Regina Fuller, returns to her small hometown after her father's death to evict everyone and sell the land to a mall developer - right before Christmas. However, after listening to stories of the local townsfolk, reconnecting with an old love, and accepting the guidance of an actual angel, Regina starts to have a change of heart. This is the story about family, love and how a small town's Christmas spirit can warm the coldest of hearts. Featuring 14 original songs with music and lyrics by Dolly Parton. Available November 22
Get the Full Schedule here
MORE HOLIDAY IDEAS FROM MOMTRENDS
PIN IT!
Use Pinterest to save your favorite ideas from Momtrends. Be sure to follow our Holiday fun parties recipes and crafts board here.
Momtrends was not paid for this post.