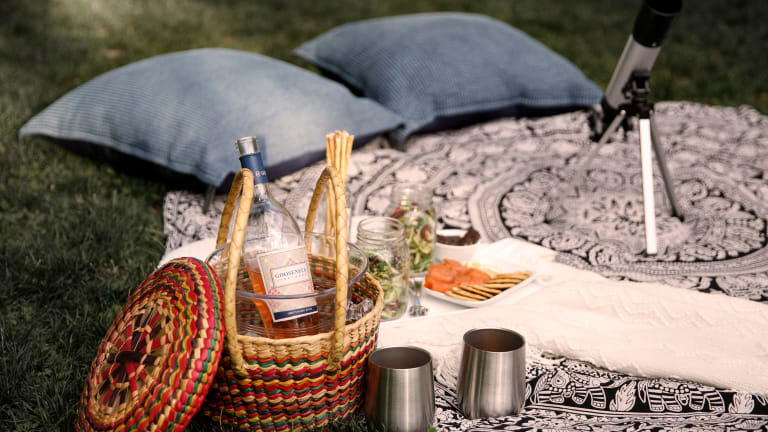 Summer Date Night Ideas at Home
Make time for romance at home with a date night. We're kicking things off with a stargazing date perfect for summer.
Can you remember the last time you and your honey spent quality time together? Quarantine has been tough on relationships. To help couples rekindle that "loving feeling" our team of editors is working with Gooseneck Vineyards to come up with a series of date nights. Each date night will include a couples-only activity, a wine to sip, snack ideas and tips for setting the mood. We're kicking things off with a stargazing date night perfect for summer.
Related: Crab Feast Summer Date Night Idea 
Summer Date Night Activity
You don't need a yard or a reservation for this date night. A park, balcony, or heck, even a window will work for you to create this summer date night. It's all about slowing down and looking up (yep, away from your phone). After the kiddos are in bed, set up a little area to cuddle and search the heavens.
To help identify what's up there, get the Star Finder: A Step by Step Guide book. From Orion to the Pleiades and Cassiopeia to Aries, this simple guide to star-hopping will guide you and identify what's up there. See how many of the most famous constellations you can spot. Get creative, make up your own shapes, this is all about forgetting what you "need" to be doing and spend time focusing on each other. 
If you want to splurge, grab your Star Finder Telescope. This item will be great for your date and then can double as a STEM toy for your kids. It comes with a tripod and monocular space spotting scope.
And here's another way to check out the stars: Download this cool Astrology app here. While astrology may be more of an art than a science, it's still a lot of fun. You'll be amazed by the animated and accurate charts and gain an even deeper understanding about the stars.
What to Sip Under the Stars
To make this date feel special, be sure to sip something that brings to mind a mini vacation. For that reason, June is a wonderful time to sip rosé. It always reminds me of the South of France and worry-free days. For a lot less than a plane ticket, you can sip a bit of summer from Gooseneck. For your date night, try the Gooseneck Vineyards Rose. I love that it's not too sweet. It has hints of delicate blackberries and boysenberries and finishes with clean acidity and spicy notes and it's under $20!
If you want to sip a crisp white wine while you are looking up at the heavens, bring along a chilled Gooseneck Vineyards Sauvignon Blanc. This white tastes of tropical fruit with a dry finish, perfect for the warmer days of summer.
Order online here www.gooseneckvineyards.com/at-our-winery.
Save 20% on your order with CODE: Momtrends
Setting Up Your Summer Date Night at Home
Let's look on the bright side. With quarantines in effect, there is no issue of wondering where to go and your schedule is pretty free. For this date, claim a space under the stars and set out your blanket, or use this fun tapestry as a tablecloth. Make the space cozy with some throw pillows. Make a little effort creating your tableau.
For wine glasses, we love these tossable plastic glasses. They are perfect for outdoors no chips and no cracks.
Stargazing Snacks
Our advice is to keep the snacks simple. We like the idea of making small plates. For our snacks, we served salmon and crackers with lemon slices, hummus and breadsticks and a kale salad packed in a jar and mint chocolate. Pack everything into this handy basket tote.
Momtrends Tip: Mix the salad in mason jars. It cuts down on the mess and makes tossing the salad a breeze.
Planning your Date Night
If you can find a babysitter who meets your quarantine standards, book him/her and get your romance on. But here's good news: Many of these activities can happen without the benefit of a babysitter. Plan your date after the kids are in bed. 
Don't forget to put on something cute, it doesn't have to be fancy, check out this idea for inspiration.
We hope this theme inspires you. Don't worry, there's going to be more coming soon! 
More Summer Fun Ideas from Momtrends
Pin it!
Be sure to use Pinterest to save your favorite ideas for date night. And for more Summer Fun, be sure to follow this board.
DISCLOSURE: Momtrends was not paid for this post.