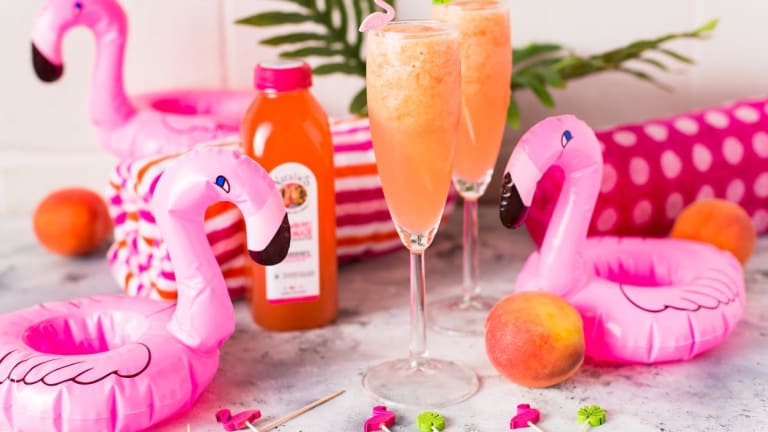 Strawberry Peach Sparkling Frosé Recipe
The perfect summer cocktail is slightly sweet and totally refreshing, that's why we love this easy to make frosé cocktail
I may not go in for all those special days of the month (I can skip National Corn on the Cob Day), but I do make special room for National Rosé Day. This June we are celebrating the holiday with a fresh Strawberry Peach Sparkling Frosé Recipe that is the perfect way to kick off summer. 
Related: 3-ways-to-rosé-all-day
We all need reasons to celebrate right now. We're fighting for the rights of our citizens, we're homeschooling and we are keeping businesses running. In my eyes, moms are superheros. I would love to treat all of you to a round on me. Since I can't scoot around the country pouring drinks, I can help inspire you and hope you'll raise a glass with me this weekend. 
Strawberry Peach Sparkling Frosé Ingredients
(Makes 4-6 drinks)
2 cup sparkling Rose, chilled
1 cup of Strawberry Lemonade, frozen into ice cubes
2 cup peaches, chopped and frozen
Extra fruit for garnish
Strawberry Peach Sparkling Frosé Directions
In a blender jar, combine chilled sparkling rose, frozen cubes of Strawberry Lemonade and frozen peaches
Blend until smooth
Garnish with fruit
More about Rosé 
This pink wine is one of my favorites. Rosé wines are generally made from red grapes and are very versatile wines. The varietals most often used in making a rosé wine include Pinot Noir, Syrah, Grenache, Merlot, Malbec, Cabernet Sauvignon, Tempranillo, Sangiovese, and Zinfandel. Here's the thing, they don't have to be super sweet, in fact, my favorites often have a touch of citrus or mineral to them. Rosé wines can vary from sweet to dry, it's all a matter of taste. 
Momtrends Fun Fact: The pink color of rosé wine depends on the time the grape skin stays in contact with the juice, also known as maceration. Head here to learn about some of our favorites.
More Wine Lovers Fun for Moms
PIN IT!
Use Pinterest to save your favorite cocktail ideas. Be sure to follow our Wine Time board here.