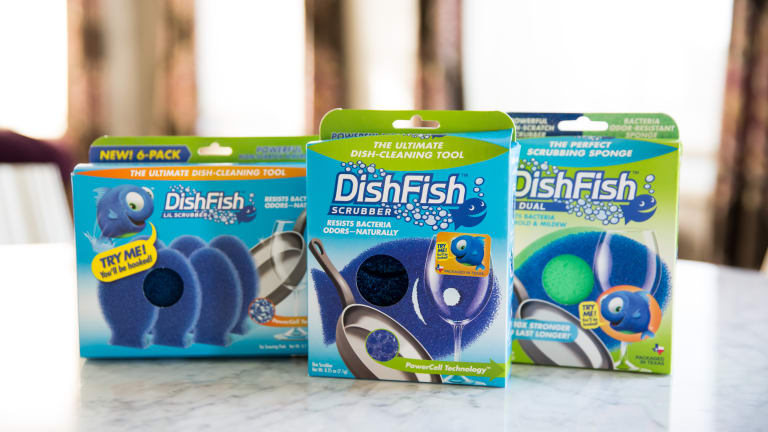 Simplify Holiday Cleaning With DishFish
Straighten Up and Scrub Down
Cleaning is not my favorite pastime. I know some people find it relaxing or therapeutic, but not me. There are about a million things I'd rather be doing than vacuuming and dusting and wiping and polishing—especially at this busy time of year. I'd rather be baking holiday cookies and watching movies and crafting ornaments and enjoying quality time and making memories with my two mess-creating kiddos.
But with guests coming and hostessing duties on the horizon, I'll be spending more hours than I'd like to admit straightening up and scrubbing down. That's why I'm always on the lookout for cleaning items that streamline and simplify my routine—so I can get back to our festive family fun and crazy holiday-time shenanigans.
My latest find and cleaning obsession? The DishFish—and, let me tell you, this nifty (and cute!) little guy is a total game-changer. Because, if there's one cleaning chore I truly dread, it's tackling a sink full of grimy dishes. Luckily, my school of DishFish products has made scrubbing stubborn pots and plates and glasses (and, yes, even fine china!) a total breeze.
The DishFish is 10 times stronger than a traditional sponge, six times more water absorbent and two times tougher on grease and grime; but its exclusive PowerCell™ technology makes it gentle enough to use on sensitive surfaces, like the fancy China that comes out once a year for Thanksgiving dinner. ForeverFresh Foam™ gives me "wipe dry" results on all surfaces—so there's no need to spend extra time drying stacks of bowls and wine glasses during hectic holiday events. But I also don't have to stress about immediately attacking that pile of pots and plates if I don't want to--because the DishFish fleet of scrubbers is powerful on baked-on grease—so that roasting pan can wait a while! (This mom has better things to do this time of year!)

The whimsical, silly design of the DishFish offers effective cleaning in hard-to-reach spots, but my favorite feature? It stands on it's "tail," so it dries quicker and stays fresher longer, while reducing bacteria and odors—meaning it won't smell up the kitchen and only needs to replaced every 6 to 12 weeks. A traditional sponge is an absolute breeding ground for bacteria, mold, mildew, and nasty odors; but the DishFish sponges and scrubbers are made with an antimicrobial material that significantly reduce the spread of E. Coli.
Better yet, I can take my favorite "fishies" outside of the kitchen too. With five different options and sizes, there's a DishFish that comes in handy for every possible scrubbing surface and cleaning task. I can even take one into the tub and shower to easily wipe down built-up soap scum. (Remind me to do this before all my guests arrive this weekend!) The larger GoFish Scrub Sponge is awesome for washing down the car; and the GoFish Power Scrubber is tough (but gentle!) on outdoor stains and oxidation.
Cleaning the house and buckling down on chores will never be my preferred way to spend our limited family time during these jam-packed, joy-filled weeks. But knowing I can get it all done faster and more efficiently—and having the DishFish in my household arsenal—makes holiday cleaning a whole lot easier. And that's all a busy mama can ask for this season!
The DishFish is available online at Amazon and at major retailers.
This is a sponsored post.