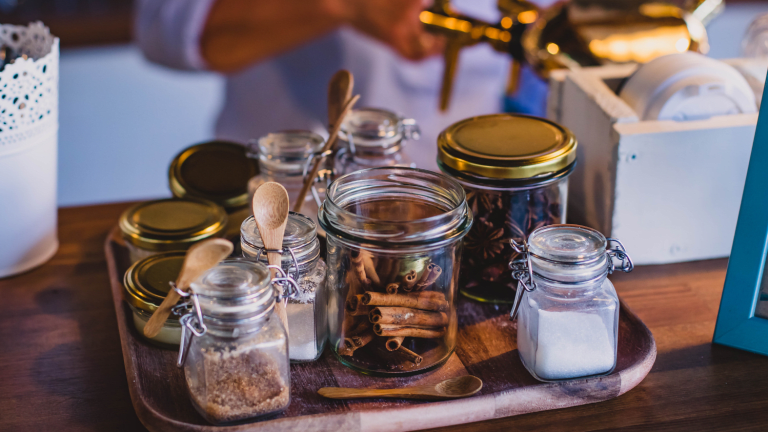 Spring Cleaning: 5 Reasons To Trade in Boxes for Mason Jars
As you tackle spring cleaning projects, get inspired by these unexpected ways to use mason jars to organize your home.
As a busy mom on the go, if I didn't appreciate organization in the past, I certainly do now. There is just something about seeing the things we use daily presented in a neat and eye pleasing fashion that somehow takes one thing off of my plate and makes finding things easier. As you tackle spring cleaning projects, get inspired by these five ways to use mason jars to organize your home.
Related: Spring cleaning tips and printable checklist
Mason Jar Solutions=Unexpected Organization Tools
With the kitchen being the heart of the home and the passing through place for many, organization in the kitchen and adjoining spaces makes a huge difference. Whether the space is large or small, space planning and having storage for everything is critical. One way to make more space is by removing bulky, unattractive boxes from cupboards and pantries.
Clear, mason type jars are popular right now and for good reason. They are functional in many areas and offer an affordable method by which to organize many things from food to Lego pieces.
Here are 5 ways jars really come in handy in when organizing the spaces in your home.
Take Easy Inventory
If you've ever bought something from the grocery store that you already have, you know about this. One glance will let you know that you are low on sugar!
Fit Many Home Decor Types
Whether your style is modern, or shabby chic, whether you choose to spray paint them in metallic or give a distressed look they can easily function in a variety of spaces for minimal cost.
They are Recyclable
While you can venture out to your favorite home decor or arts and craft store to pick up glass jars, you can also reuse your pasta, mayonnaise and jelly jars after you are done with them.
 Creates the Illusion of a Larger Space
If your space is smaller, glass jars create the illusion of a bigger space by allowing light to pass through.
Esthetically Pleasing
There are many components of life that we can't control but creating beautiful spaces in our place of refuge makes a functional difference.
More Cleaning Hacks from Momtrends
Pin It!
Use Pinterest to save your favorite tips and life hacks from Momtrends. Be sure to follow our Cleaning and organizing board here.