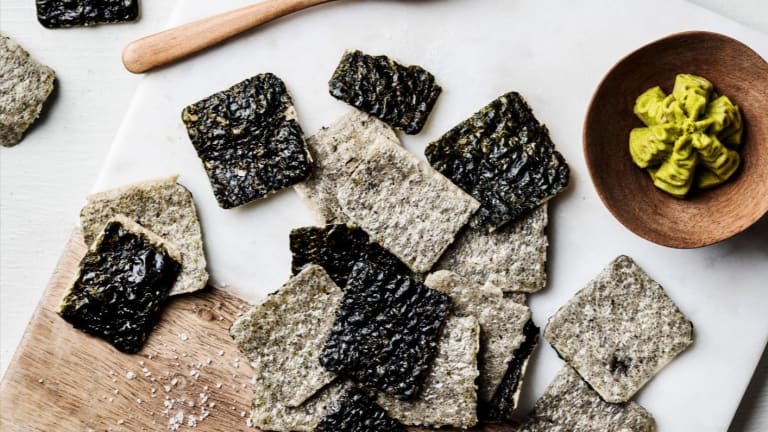 Publish date:
Snack Better With Annie Chun's Seaweed Crisps
Yummy seaweed crisps are oven baked, not fried, and perfect for snacking.
I'm always on the hunt for snacks that are healthy, taste good, and that everyone in the family will enjoy. On a recent shopping trip, I discovered Annie Chun's Seaweed Crisps. These were intriguing! As I stood in the aisle of my local grocery store with my toddler in the cart babbling on about everything around us, these healthy snacks gave me pause. Annie Chun is the maker of delicious Pan-Asian meals and snacks. But, seaweed crisps? With only a moment's thought, I grabbed up the three flavors, because you never know which ones will be the favorite and headed home.
Related: 5 healthy snacks to keep you satisfied this holiday season
A few days later, after the what felt like the millionth "I'm hungry" chorused from my two always hungry kiddos by 10 am, we opened the seaweed crisps. The kids were unsure at first, so I gave them the first taste test. "Crisp" really is the right word. I was immediately a fan of the crunchy chip-like texture.
Snack Better with Annie Chun's
The seaweed crisps are oven baked, not fried, which I appreciate. They are vegan, gluten free, cholesterol free and contain zero trans fats. The crisps are made of hearty brown rice chips on one side layered with roasted seaweed on the other. We really liked them!
My daughter likes to munch on a few after her violin practice. She likes to say "learning music builds up your appetite!" Both kids are fans of the Original and Korean Style BBQ flavors. The Gochujang flavored seaweed crisps has too much heat for them. But, my husband and I like heat so we don't mind a bit of spice.
As a busy mom who often overlooks her own health and who lives off coffee and wine, the Annie Chun's Seaweed Crisps are a great healthy option. With only 80 calories per serving and tasty flavors I can enjoy them without the excess calories or fat of traditional on-the-go snacks. I've started keeping a bag in my car for when I'm out and about. The seaweed crisps are bite-sized, delicious, and they help keep snack cravings at bay.
MORE FUN SNACKING IDEAS FOR KIDS
PIN IT!
Use Pinterest to save your favorite recipes. Be sure to follow our Recipes to Inspire board.
This is a sponsored post for Annie Chun's. All opinions are our own.