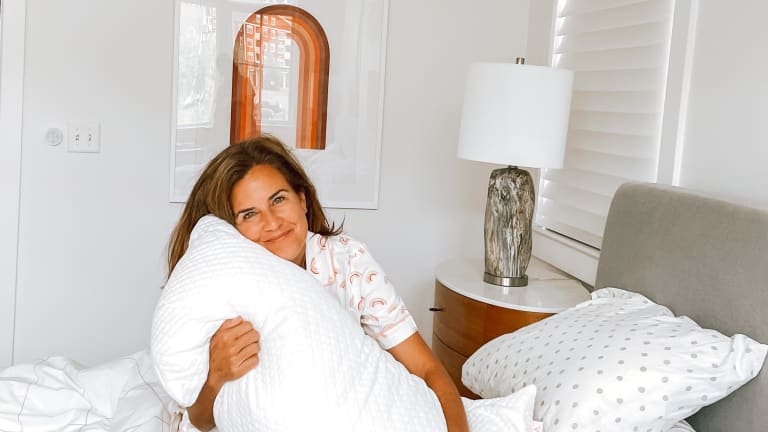 Sleep hack to give moms a more restful night
Rather than supplements or meditation, getting better sleep might be as easy as upgrading your pillows with Juvea.
Looking for a life hack to get better sleep? Here's my go-to sleep hack to give moms a more restful night: get better pillows. Thanks to perimenopause, my sleep has been interrupted and I was finding it hard to get back to sleep after my 3am wake-up. I lowered the temperature in the bedroom and added a new Juvea Big Daddy pillow and have been sleeping blissfully since.
Related: You should experience the best pillow for sleep
SAVE 20% on your JUVEA order through the end of August. Use code SHOPBIGDADDY.
As women we should be in awe of all the shape shifting our bodies go through over the years. When you come to think of it, we are pretty darn amazing.
One thing many of us neglect when it comes to self care is our sleep hygiene. We just power through every life change with compromised sleep. Well girlfriend, I'm here to tell you to pull the plug on that behavior and start making better sleep a priority. Take a few minutes to think about an upgrade of your nighttime routine and consider it a well-deserved investment in your mental health.
What You Need to Know About the Big Daddy Pillow
Back when I was pregnant with the girls, I loved having a body pillow to engulf my body in a compassionate hug each night. It was one of the few ways I could get truly comfortable in that last trimester. As the years went by, I forgot all about the comfort a big body pillow provides.
Fast forward a decade and I was once again on the hunt for a way to make peace with sleep. That's when The Big Daddy came into my life.
The Big Daddy by JUVEA pillow offers 7 lbs of 100% Natural Latex in an overstuffed King-size pillow. It'll be your new BFF at bedtime.
No matter where you are in the motherhood journey, The Big Daddy provides excellent support for all back and side sleepers. The secret is the high supportive loft. No matter how you shape it or bend it, the ComforFill design adapts to your support needs and never goes flat. Even the fussiest sleeper can find better rest with The Big Daddy.
How to use The Big Daddy
I've added this new pillow to our existing bedding. I keep our normal Juvea pillows at the headboard, and now this is my designated bed buddy. I customize the pillow every night by shaping, bending and bunching it to support my side sleeping position.
It's great both as a body pillow or pregnancy pillow. You'll love that the higher loft provides proper head elevation and support that may reduce snoring and acid reflux. The Big Daddy retails for $145 and is worth every penny. Rather than buying expensive supplements or finding time for meditation, getting better sleep might be as easy as upgrading your pillows with Juvea.
Head to juvea.com and SAVE 20% on your order through the end of August with code SHOPBIGDADDY.
This is a sponsored post.