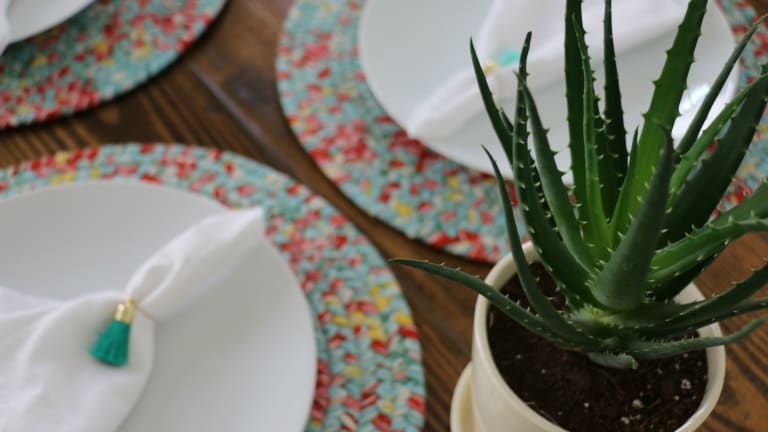 Publish date:
Simple Spring Tablescape Ideas
Set a pretty spring table in no time with our easy home decorating tips...
Set a pretty spring table in no time with our easy home decorating tips...
So, who wants to see some simple spring tablescape ideas? Simple is the key word here, right? I don't know about you guys, but spring has been, in a word, BUSY for this mama! Between the kids having mandatory testing at school, fundraisers galore, the usual lessons, homework and whatnot, not to mention everyday life, there's been nary an extra minute to spare. And that means I haven't had as much time to spend on my spring decorating as I would like to. Now, that doesn't mean I've ignored things completely. I've simply had to focus on easy decor tricks that make a big impact...
And my number one piece of home decor advice these days is to embrace houseplants. Don't get me wrong. I, by no means, have a natural green thumb, but I'm trying. And one of the best starter plants that you can try is an aloe plant. In fact, I just got a Hedgehog Aloe from The Sill that I'm totally obsessing over. I've been moving it to various spots in my house from my kitchen counter to my dining room table as part of a spring tablescape. It's so darn versatile thanks to the beautiful ceramic planter that it's housed in. 

5 Pretty Ways To Organize Your Jewelry
I admit - I'm guilt. Despite my best efforts, my "jewelry drawer" has become a tangled mess of necklaces, bracelets and earrings. This cluttered collection not only makes it hard to see what I have, but difficult to untangle the pieces I do want to wear! This summer, I'm ...read more
This Year's Coolest Jumbo Pool Floats
Pool season is almost here! I can't wait to relax, read a book, and sip a cocktail while lazily drifting in an oversized float. (Just kidding, I have two toddlers--but a swim mama can dream, right?). If you've got a staycation planned, check out this year's coolest jumbo pool ...read more
Crystal Clear and Pristine: Pool-Cleaning Tips
Tropical Storm Isaiah gave us quite the midsummer surprise here in the suburbs of New York City. We just got our power back on after a whole week of darkness! With trees down, debris everywhere, and lots of uncertainty, one thing we forgot to check on: our above ground Intex ...read more
In case you aren't familiar with The Sill...It is a great resource for houseplants. Not only do they have the most gorgeous array of plants to choose from, but you'll find care instructions, beginner plant enthusiast tips and more over at their website. Their Mother's Day bundles would make a fun, different kinda gift too. You can bet this mama would be thrilled to receive one. Seriously, I've been obsessed for months, and with good reason, but I digress...
Back to those simple spring tablescape ideas. Start with a houseplant in a pretty planter as your centerpiece, then add colorful placemats. I love the casual, homey vibe of braided placemats. Finish things off with simple white dishes, napkins and maybe some cute, springy napkin rings. I wasn't kidding when I said this would be easy. Try these tips yourself, and you'll have a simple spring tablescape in no time flat!
For more home decorating ideas, check out our advice for how to style a coffee table tray!
We were not paid for this post. We did receive a sample.