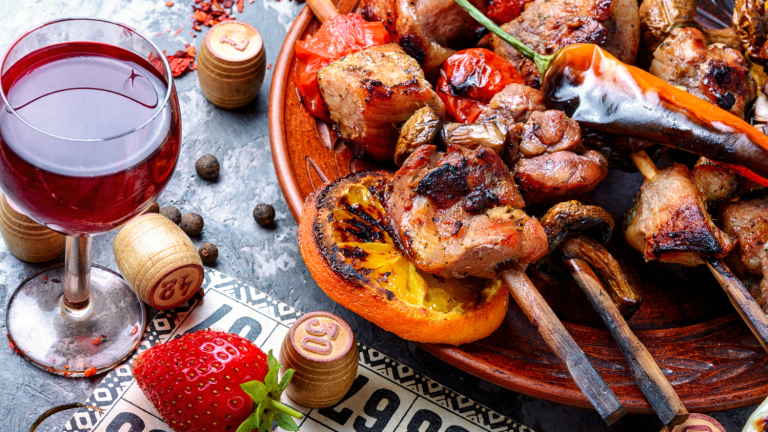 Seven Wine Pairing Tips for Grilled Summer Foods
We've got ideas on how to bring out the best flavors in your meals with wine that will complement the best foods of summer.
Warm spring weather means it's time to roll out the grill, dust off the cover and scrape out the leftover food from last season (unless of course you live in California and grilling season never ended). We've got ideas on how to bring out the best flavors in your meals. Check out these seven wine pairing tips for grilled summer foods. 
Related: Affordable Trader Joe's wine
For many people, grilled food means busting out the heavy hitting red wines like Syrah, Cabernet Sauvignon and Zinfandel. And why not? Very few things beat these classic wine and meat combos. First, let's talk about the more traditional red options.
1. Zinfandel is made for BBQ
Gluttons for goopy sauce shouldn't miss the tasty combo that is Zinfandel and baby back ribs. The thick, jammy style of the fruit of Zin stands up quite well to the bold, smoky sauce smothering tender, succulent ribs.
2. Syrah works with Lamb
When coming from France, this wine has a lot of natural white pepper spice. The herbal spices make the wine sing when guzzled aside a sizzling-hot peppercorn New York Strip. Of course if it's Australian Shiraz you're in the mood for--which is the same grape but generally tastes fruitier--then the juicy blackberry and blueberry flavors of this wine play well off the gamy tang of grilled lamb.

3. Cabernet Sauvignon is meant for Steak
In California's famous Napa Valley, Cab is King. Rich, bold, tannic and heavy, not a wine to be taken lightly, it demands a meal that is just as big. Forget the propane here and hit the charcoal and wood chips to throw a nice smoky aroma to a big T-bone steak or Portobello mushroom burger.
4. Malbec is a Wild Card
For my money, one of the best red wines to sling around the BBQ is Malbec from Argentina. This fruity, spicy, smoky and structured wine is rapidly growing in popularity for the amazing quality and affordability. The rich, bold fruits combined with high natural acidity make this delicious with just about any meat on the grill from chicken to pork to beef.
Lighter Wine Pairings
Spring and summer usually mean hot weather, and who wants to sit around slugging back dense, jammy, chewy wines when just crossing the room to look at the thermometer is enough to get a sweat going? Those icy cold white wines sitting in the refrigerator are just begging to be drunk. And just because the grill is fired up doesn't mean the white wine has to take a backseat to the entrée.
5. Chardonnay works with Lighter Fish
This can be tricky, because Chardonnay comes in drastically different styles and flavors. The classic California style is rich, buttery and full of oak. This tends to work quite well with beer-can-chicken or roast pork. The "naked" style of Chardonnay, made without any oak influence, focuses more on citrus flavors, and compliments a lighter fish like halibut or even shrimp skewers.
6. Pinot Grigio is ideal for Seafood and Salads
One of summer's most popular white wines. Often consumed as an aperitif, yet it definitely deserves a place at the dinner table. The lighter flavors make this work best with more delicate foods, so try a grilled Caesar salad, diver scallops grilled on a cedar plank or rotisserie chicken.

7. Rosé is perfect for Salmon
Yes, pink wine. This can be a perfect way to satisfy the thirst for a bold red wine yet keep the satisfying chill of a white. Rosé from Spain, in particular the Rioja region, is usually bold and fruity with tons of body and no sugar. Often made from the Grenache grape, they are bold and often almost as dark as a Pinot Noir. These wines have the body to stand up to chicken and pork, yet are cold and crisp enough to work with most fish. If you find yourself with a pale pink rosé from southern France however, keep your thoughts focused on the bright mineral flavors, and make sure you have a thick piece of salmon ready to go.
MORE WINE IDEAS FROM MOMTRENDS
PIN IT!
Looking for more food ideas? Check out the Momtrends' Wine Time on Pinterest!
Momtrends was not paid for this post.