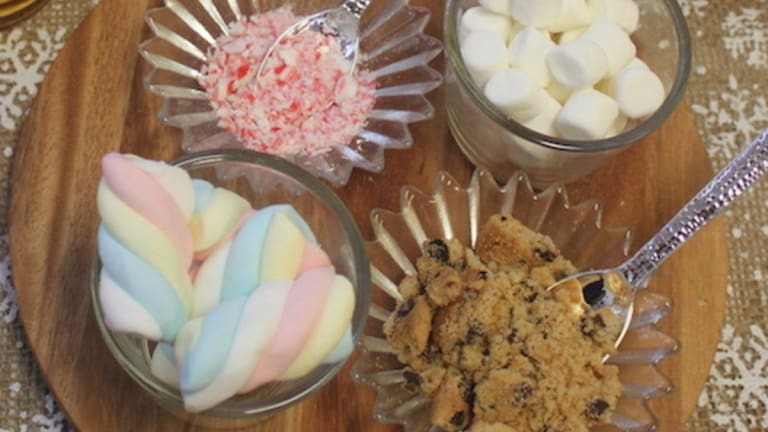 Set Up Your Hot Cocoa Bar at Home
Carve out some family time and create a hot-cocoa bar as a sweet winter treat.
The cold hit us with a quickness in NYC, so in keeping with the holiday spirit and the newfound chill, we thought that the perfect thing to do for the entire family was to create a hot-cocoa bar.
Related: Hot chocolate ideas for winter
Set Up Your Hot Cocoa Bar at Home
Everyone likes to personalize their food, so why not personalize your drinks? To set up your bar, start by gathering some pretty bowls and your favorite mugs. Next step, whip up your favorite cocoa recipe in a big batch to share.
Now comes the fun part: Prepare mix-ins like crushed up candy canes (we know you've got tons left over), cookie bits, marshmallows, M&M's, and spices. 
Kids will love adding their favorites and experimenting with new flavors like cinnamon, nutmeg, or pumpkin pie spice. Don't be afraid to experiment. I'm telling you, add a dash of pumpkin pie spice to your cup and you'll be in heaven. You're welcome. 
Grown Up Cocoa
And hey, why not imbibe while you're indulging? Here's a great recipe for a hot-cocoa cocktail:
Prepare your hot-cocoa of choice with whole milk. (C'mon, we all know it tastes better) You need 1 cup.
Add 1/2 oz of Vanilla Vodka (recipe to create your own below)
Add 1/2 cup of Pinot Noir
Mix together a dash of pumpkin pie spice and sugar in a bowl. Scatter over a tea saucer and rim your glass with the mixture.
MORE HOLIDAYS FROM MOMTRENDS
PIN IT!
Use Pinterest to save your favorite gift ideas. Be sure to follow our Holiday Recipes and Crafts board here.
This is not a sponsored post. It may contain affiliate links. All opinions are our own.