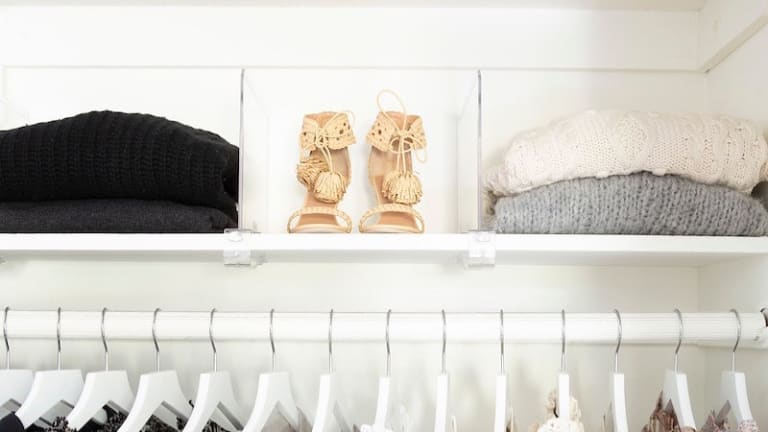 How to Set Up A Stylish + Organized Closet
If you think your life will be better with less, this is the place to start your organization journey with a three step project.
I don't know if it's the clutter of the holidays or the arrival of new gifts and gadget to find a home for, but a new year always inspires me to clean out and purge. However, while I may get inspired to clean out closets, this doesn't always translate into actually doing it.
Related: Closet organization and renovation project
So I reached out to the adorable and ridiculously stylish Shira Gill, a Bay Area-based organizer, mom of two, and founder of Shira Gill Home who works to help her clients create a "well-edited life" filled with fewer, better things.
I've been following her on Instagram for a while and can't get over the drool-worthy closet make-unders she does! Simple, chic and organized. Isn't that what we all want? Whether you're tackling your own clothes, an out-of-control linen cabinet or a too-packed pantry, here are Shira's top four tips for giving your closets a fresh start.
Step 1: Prep your Closet

Start by removing everything from the shelves. Everything. I generally place an old sheet on the floor so it's easy to lay everything out in preparation for editing and sorting. Give your shelves a wipe down and line them with pretty adhesive shelf liners for a little added polish.
Step 2: Edit

Less is always more. Review the contents of each closet and do your best to keep only what you currently use and love. This is the most important step! If you get stuck try asking yourself the following questions:
Would I buy this item for full price today?
Would it impact my daily life not to have this item?
Is this item really worth the space it's taking up in my home?
Is this item adding value to my life right now?
Does this item energize or drain me?
Step 3: Stock Up

A few things I like to invest in when setting up a closet:
Step 4: Set Up + Style
Now, for the fun part! Fold your sheets and towels into piles. Place the remaining sheets and towels on your shelves organized by room or bed size - e.g., kid's room, master bedroom, guest room etc. Separate with shelf dividers and affix some pretty labels so everyone in your household can easily find the right sheets for the right bed.
Create a streamlined look in clothing closets by using uniform hangers and arranging hanging items by style and color. Use pretty bins or baskets to store belts, scarves and accessories on shelves. Pick one style and color of bin to keep a clean and streamlined look. Hooks work well for bathrobes, handbags and necklaces.
Ready to Start?
You can see more of Shira on her website or Instagram. In addition to her gorgeous rooms, one of my favorite parts was this quote on her best organizing advice.
"Fill your home only with things that you use and love. I edit ruthlessly and frequently. My career is helping busy families to streamline and simplify their spaces, so I am often inspired to do the same!...I try to make my home a sanctuary where we can unwind after a busy day, cook, play and relax."
A sanctuary to unwind, play and relax? To that, I say amen!
MORE DESIGN TIPS FROM MOMTRENDS
PIN IT!
Need more ideas on what to do with the kids? Be sure to follow our Organization board on Pinterest here.
Momtrends was not paid for this post. The post may contain affiliate links. Photos on this post taken by photographer Vivian Johnson and used courtesy of Shira Gill.