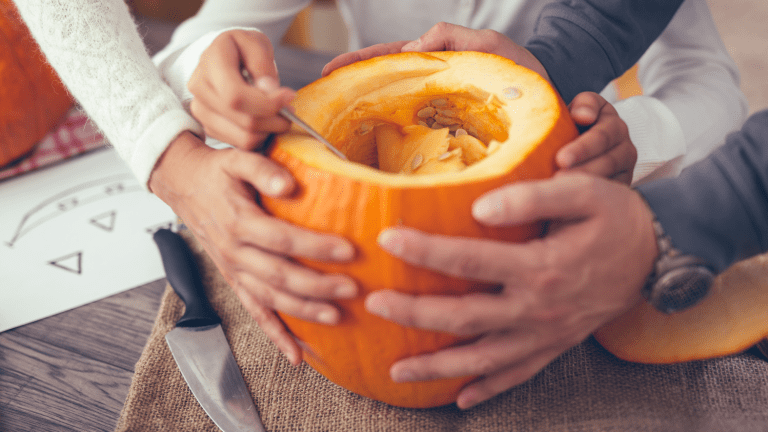 Publish date:
Scary Halloween Messes
From pumpkin carving messes to making fake blood, Halloween can get messy, here's how to keep it clean.
From pumpkin carving messes to making fake blood, Halloween can get messy, here's how to keep it clean.
It was a dark and windy night, the moon was just a sliver in the sky and wolves were howling in the distance. The mom of the house was weary and frightened at the thought of the creepiness that lay ahead of her that night. Racing from work to home, a chill went up her spine as she opened the apartment door and was greeted by a skeleton and two little ghouls...Halloween had arrived!
Related: DIY Halloween graveyard
It took having kids to get me into the Halloween spirit. As an adult, I didn't go in for costumes, tricks and spooky decor. Now that I am a mom, I embrace scary Halloween messes.
In fact, we embrace the season SO much that we have taken to growing our own pumpkins. Talk about a mess, these beauties come out of our compost bin. Each year we recycle our pumpkins and the "goop" from inside in our compost. Magically, the next summer huge, strong vines appear in the garden. Then by September, we've got a least two or three huge pumpkins in our patch.
Gardening with kids can be incredibly messy--in the best possible way. The girls love to play in the dirt and are so proud of what we create.

5 Pretty Ways To Organize Your Jewelry
I admit - I'm guilt. Despite my best efforts, my "jewelry drawer" has become a tangled mess of necklaces, bracelets and earrings. This cluttered collection not only makes it hard to see what I have, but difficult to untangle the pieces I do want to wear! This summer, I'm ...read more
This Year's Coolest Jumbo Pool Floats
Pool season is almost here! I can't wait to relax, read a book, and sip a cocktail while lazily drifting in an oversized float. (Just kidding, I have two toddlers--but a swim mama can dream, right?). If you've got a staycation planned, check out this year's coolest jumbo pool ...read more
Crystal Clear and Pristine: Pool-Cleaning Tips
Tropical Storm Isaiah gave us quite the midsummer surprise here in the suburbs of New York City. We just got our power back on after a whole week of darkness! With trees down, debris everywhere, and lots of uncertainty, one thing we forgot to check on: our above ground Intex ...read more
We brought this one home to the city last week. The girls promptly plopped it right on my nice clean kitchen counter. It had loads of mud on the bottom--Clorox® Disinfecting Wipes to the rescue. I had my kitchen back in order in a matter of seconds. And then I used the Clorox® Disinfecting Wipes with Micro-Scrubbers to clean up the bottom of the mucky pumpkin. The wipe scrubbed the dirt right off.
Then there's the actual scooping out of pumpkin guts (TIP: use an ice cream scoop to get all the seeds and muck out--this really works!). I set the kids out on a plastic mat and let them work. They love squishing the seeds and pulp in their fingers and then chasing each other around. For pumpkin carving tips head here.
How to Make Fake Blood
In addition to pumpkins and decor, the girls are also into the spookier side of Halloween. I found myself researching fake blood last night--you just know that's going to get messy--here's the recipe from www.stevespanglerscience.com/lab/experiments/fake-blood-recipes/
We've got some zombie costumes in the works and a little fake blood will finish off the fun. I foresee more messes in my future--all in the name of fun. It's not all princesses and movie star costumes!
Scary Halloween Messes
Stocking up on Clorox makes this season a lot less scary. Clorox® Disinfecting Wipes help kill ghoulish germs and the spookiest bacteria. Did you know Clorox wipes kill 99.9% of germs that can live on surfaces for up to 48 hours, as well as 99.9% of viruses* and bacteria – plus Staph, E. Coli, salmonella and strep?**
WANT MORE HALLOWEEN TRENDS FROM MOMTRENDS?
PIN IT!
Be sure to follow Momtrends on Pinterest and for more spooky inspiration follow our Halloween and Thanksgiving Boards here. 
This is a sponsored post. *Human Coronavirus, Influenza A2 Virus; †Staphylococcus aureus; ‡Escherichia coli O157:H7; §Salmonella enterica; **Streptococcus pyogenes