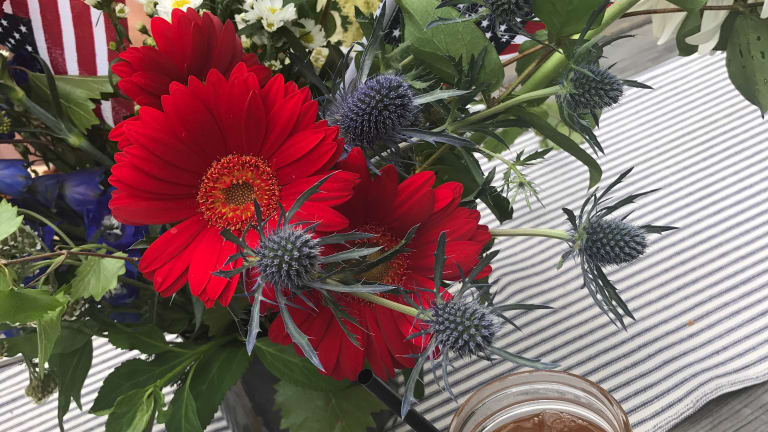 We shared some easy and chic tablescape inspiration for your July Fourth celebrations, but we left one must-have off the list... Flowers.
Summer is in full bloom and we can't have an alfresco fete without fabulous florals decorating every corner, table, and planting pot. 
While tropical, neon, and brightly colored blooms are always a welcome addition to the seasonal scene, I like to keep things simple and streamlined for the Fourth of July. And a red, white, and blue color scheme helps set the ambiance for a patriotic party. 
Americana-inspired bouquets are a given, but I like to keep my arrangements classic rather than kitschy. (That means, those artificial spray-dyed blue blooms need to go.)

Save Money at a Ski Swap
Are the slopes in your future? If you want o save money on ski gear, consider a ski swap.  Connecticut  Ski Sundown SKI SWAP 2021. The Sundown Ski Patrol Ski Swap is one of New England's largest and longest-running swaps. Held in the Ski Sundown base lodge, you'll find a large ...read more
The Ten Best Wooden Play Kitchens For Kids
Cooking is a timeless fascination for children. This type of play goes beyond gender and teaches kids loads of life skills along the way. An investment in a play kitchen is money well spent, as it can provide hours of entertainment. We've rounded up the ten best wooden play ...read more
New Victory Announces a New Season of Shows
We know you're busy planning picnics and summer outings, but we wanted to let you know that The New Victory just announced their new season and it looks fantastic. We thought you'd like a sneak peek of what's in store! Each year the New Vic theater brings culture to tourists and ...read more
Hydrangeas, daisies, and wild flowers keep it super easy and super affordable. Even deep purple flowers can be used in place of blue hues. Stick a flag in the middle of your vase and you've got a beautiful centerpiece.
And, of course, you can always use roses... but we prefer rosés!
Need more ideas? 
1. Place a big planter or a large bunch of loose white wild flowers in a Radio Flyer wagon.
2. Tie white and red bakery twine around the edge of a mason jar filled with blue or white hydrangeas. 
3. Make three separate monochromatic arrangements in three of the same glass jars: one red, one white, and one blue.
This is not a sponsored post.