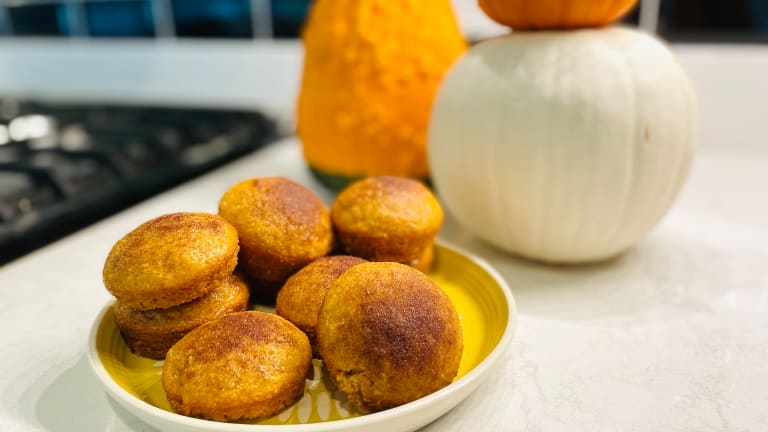 Hello Fall Pumpkin Spice Dirt Bomb Recipe
Irresistible little baked treats that are spiked with nutmeg and ginger, and rolled in melted butter and cinnamon sugar.
Get your pumpkin spice fix with this tasty dirt bomb recipe. Unlike fried donuts, this recipe is a little lighter and, since no hot oil is involved, a lot less messy. These dirt bombs, or baked donuts, are irresistible cakey muffins that are spiked with nutmeg and ginger, and rolled in melted butter and cinnamon sugar. 
Related: Fall favorite pumpkin latte
Your kitchen is going to smell amazing as you whip up these autumn treats. I love this recipe for beginner bakers. The mix really keeps things simple. Of course you can make a simple cake mix for the base of this recipe, but we love Miss Jones Baking Co. Organic Vanilla Cake Mix. It's a great mix because it's organic and non-gmo, vegan, dairy-free and nut-free. I advise keeping a few boxes on hand for your baking needs.
Pumpkin Spice Dirt Bomb Ingredients
3 eggs
1/3 cup oil
1/3 cup water
1/2 cup pumpkin
2 teaspoons cinnamon 
1/4 teaspoon fresh ground ginger 
1/4 teaspoon nutmeg
3 tablespoon butter (melted)     
2 tablespoons cinnamon sugar (I like the McCormick brand)
Pumpkin Spice Dirt Bomb Directions
Preheat oven to 350F
Mix together cake mix, eggs, oil, water, pumpkin, cinnamon, ginger, nutmeg in a large bowl.
Grease (don't use spray or the muffins won't puff up properly) 48 mini muffin or cupcake pans and fill each cavity 3/4 full with batter.
Bake for 8-10 minutes, or when muffins spring back when touched.
Brush tops of muffins with melted butter and sprinkle on cinnamon sugar mixture. Serve immediately.
Note: if you don't have mini pans, don't sweat it. I used our regular muffin tins and filled them about 1/3 full and also tried Madeline sheets. It's all good when there's pumpkin spice involved!
Get More of Your Fall Pumpkin Fix with Momtrends
PIN IT!
Be sure to follow Momtrends on Pinterest and for more spooky inspiration follow our Halloween and Thanksgiving Boards here.
This is not a sponsored post.