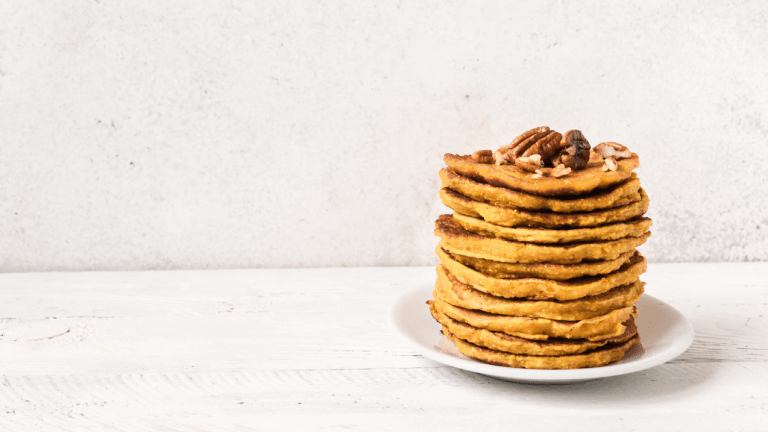 Delicious Pumpkin Pancake Recipe
Our pumpkin pancake recipe is a perfect fall treat for family brunch.
We need more reasons to celebrate this gorgeous fall fruit. It's nutritious easy to find and a delightful way to season your breakfast. Our pumpkin pancake recipe is a perfect fall treat for family brunch. 
Related: 10 Ways to get your pumpkin spice fix
With two kids in school, we relish having relaxing bigger breakfasts on the weekends, and pancakes are always a great option. My own kids love red velvet or berry pancakes, while my husband and I are partial to lemon. These pumpkin pancakes from Hey Kids, Let's Cook! seem like a great addition to our weekend repertoire, and I love recipes that the kids can help prepare.
For those of you who have been following Momtrends for awhile, you may remember I have a huge weakness for anything pumpkin, especially in the autumn. These Pumpkin Spice Cupcakes are one of my favorites, and I made double batches for both kids' Halloween parties at school. Pumpkin pancakes will definitely be appearing on our table this weekend! Enjoy!
Delicious Pumpkin Pancake Ingredients
1/2 cup whole wheat flour
3/4 cup all-purpose flour
3 Tablespoons granulated sugar
2 teaspoons baking powder
1/2 teaspoon salt
1/2 teaspoon cinnamon
1/2 teaspoon ground ginger
1/2 teaspoon ground gloves
1 cup low-fat milk
2 Tablespoons canola oil
1 egg
1/2 cup canned pumpkin
Delicious Pumpkin Pancake Directions
Measure the dry ingredients into a large mixing bowl: whole-wheat flour, flour, sugar, baking powder, salt, cinnamon, ginger and cloves.
Add the milk, canola oil, and egg into a small mixing bowl. Whisk the ingredients together until blended and add to the dry ingredients.
Add the pumpkin and stir.
Lightly grease a large frying pan with canola oil and heat to medium high.
Drop in 1/4 cup of batter for each pancake.
Flip each pancake when you see bubbles rising to the top.
Top with apple butter or maple syrup.
MORE FALL RECIPES AND DRINKS FROM MOMTRENDS
PIN IT!
Be sure to follow Momtrends on Pinterest and for more spooky inspiration follow our Halloween and Thanksgiving Boards here.