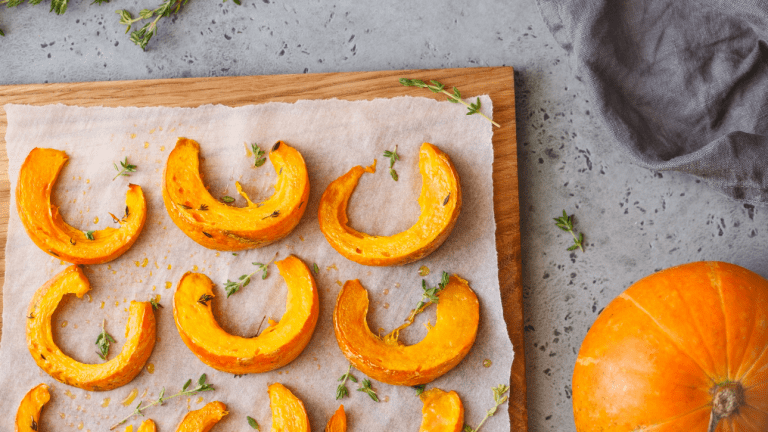 Pumpkin Nutrition Facts
Now that the brilliant colors of fall are in bloom, it's time to celebrate the pumpkin.
Chances are you've been digging into pumpkins this week. Now that the brilliant colors of fall are in bloom, it's time to celebrate the pumpkin. Pumpkin and its seeds provide many important nutrients, on top of loads of fun for family and friends. So let's talk up this glorious gourd.
Related: 10 Ways to get your pumpkin spice fix
Nutritional Benefits of Pumpkins
Vitamins: Pumpkin and its seeds contain nutrients such as vitamin C, E, iron, zinc, magnesium, potassium, both beta & alpha carotenoids (anti-oxidants which help prevent cell damage), and lutein (support healthy eyes).
Organ Health: The nutrients in pumpkin and its seeds help support the health of your kidney, bladder and prostate.
Sickness Prevention: Helps with minimizing osteoporosis, increases digestive health by helping with parasites & tapeworms, and lowering cholesterol.
Protein: Pumpkin seeds are high in protein.
General Benefits: Pumpkin seeds help the body get rid of parasites and other unwelcomed digestive inhabitants, and they contain healthy essential fatty acid oils.
Important Fact: Organic, raw pumpkin seeds will provide you with the most nutrients and enzymes.
Easy ways to incorporate pumpkin into your diet:
Thanks to Dr. Helen Lee, DC from ChicagoHealers.com for some of this nutritional information.
A handful of raw pumpkin seeds as a snack or mixed with trail mix, on top of cereal. 
Pumpkin seed butter spread on toast.
Pumpkin pie/desserts/pancakes/waffles. 
Pumpkin baked or browned with spices in risotto, chili, rice, spaghetti and don't forget pumpkin stew.
MORE FALL RECIPES AND DRINKS FROM MOMTRENDS
PIN IT!
Be sure to follow Momtrends on Pinterest and for more spooky inspiration follow our Halloween and Thanksgiving Boards here. 
Momtrends was not paid for this post.