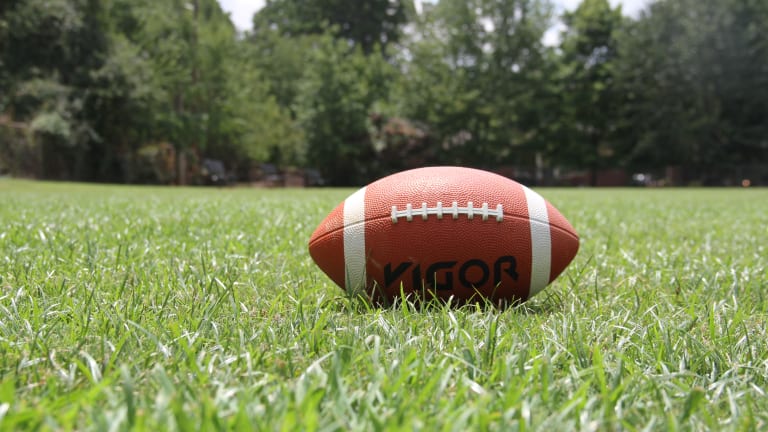 Pumpkin Chili and Football Grilled Cheese
Try this yummy, seasonal chili recipe and you'll have family and friends cheering "go mom!" during the big game.
We are always on the hunt for easy fall entertaining recipes. Are you throwing a football party? Or just having a family lunch at home but want to treat the kids to something special? This this yummy, seasonal recipe and you'll have family and friends cheering "go mom!"
Related: 15 no fail chili recipes for your Super Bowl party
Pumpkin Chili and Football Grilled Cheese

For me, I rely on this no-fail chili recipe for block parties or a family get togethers. Be warned: Everyone will be asking you for this recipe (so send them to Momtrends!).
Your kids will absolutely love the football shaped grilled cheese. There's good news for budding chefs--kids can lend a hand with this one. This will be a great family cooking time! Let them help you put in the canned pumpkin in and they can pick they favorite cheese to put on their sandwiches.
Pumpkin Chili and Football Grilled Cheese

PUMPKIN CHILI Ingredients
2 pounds ground beef or turkey
1 medium onion, chopped
1 cup canned pumpkin
1 (28-ounce) can diced stewed tomatoes
1 (16-ounce) can kidney beans, drained
1 (12-ounce) bottle chili sauce
1 to 2 tablespoons chili powder
2 teaspoons pumpkin pie spice
1 teaspoon brown sugar
1 1/2 teaspoons salt
1 teaspoon pepper

GRILLED CHEESE FOOTBALLS INGREDIENTS
Cheese (your family's favorite)
Pumpernickel or wheat bread
Instructions
For the chili: In a large dutch oven or soup kettle, brown the ground beef or turkey with the onion. Drain any excess grease. Add the remaining ingredients and stir well to mix.
Bring to a boil, then reduce the heat and simmer for 1 hour. Ladle into bowls and top with grated cheese, if desired. Makes 8 cups.

For the Grilled Cheese Footballs: Warm a lightly greased griddle over medium heat. Sandwich slices of your favorite cheese between pumpernickel or wheat bread. Then use a cookie cutter (we like the Wilton 4 pc set) or butter knife to cut the sandwiches into football shapes.

Grill the sandwiches on one side until browned. Then flip and continue to grill until the other side browns and the cheese begins to melt. Garnish with cheese or mustard "laces" and serve while warm. For more grilled cheese inspiration, check out our five favorite recipes.
MORE SUPER BOWL IDEAS FROM MOMTRENDS
PIN IT!
Save your favorite recipes and ideas from our The Big Game Pinterest board here.
Momtrends was not paid for this post.