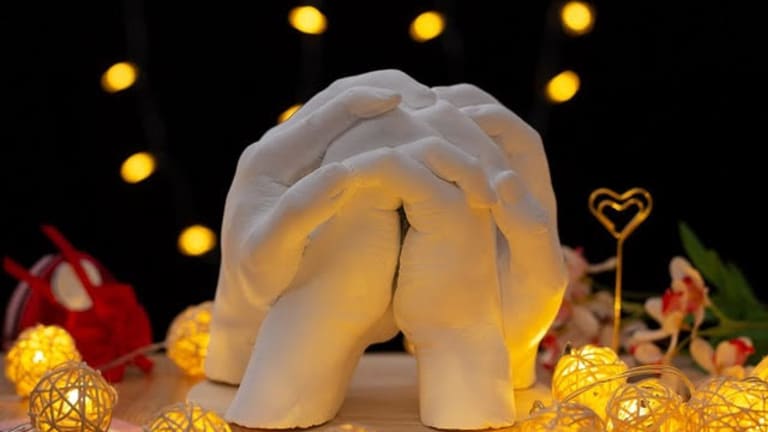 Publish date:
We Found A Creative Way to Commemorate Memories
Capture your special family memory with a Pearl of My Heart sculpture kit.
Capture your special family memory with a Pearl of My Heart sculpture kit.
Family is more important than ever. When life gets rough, we remember what really matters. Right now in this moment, we're focused on family, and that's one of the few silver linings right now. There's a way to hang onto the good parts of life, by creating special keepsakes with Pearl of My Heart Creative sculpture kits.
What to Capture with Your Sculpture
It's all about family memories. With Pearl of My Heart Creative kits  you can capture your newborn's tiny hands, your marriage, or your grandparents in the comfort of your home. It's a fun way to preserve all the people and moments we don't want to forget. 
Once you decide WHAT to capture the process is fun and easy. These sculptures are created at home in a few simple steps. The kit uses alginate powder that is hypoallergenic and non-toxic. It's based on organic seaweed and has passed strict testing. It's a 3D memory and a keepsake that provides an experience a simple photo could never give.
Easy Steps to Create Your Sculptures
You don't need to be an artist to create your piece. The casting kit is very mom friendly and comes with detailed instructions. In less than 30 minutes of work-time you'll be amazed with your results.
Practice Your Pose. See how the hands will fit into the molding bucket. Be sure you don't touch the bottom or the sides. You'll need to be able to comfortably hold the position for up to 9 minutes. 
Create the Mix. Add cold water first. Now get ready yo add the molding powder. Time is of the essence. Start stirring (note, they say you can use and electric mixer). You've got two minutes to go!  The color doesn't matter, mix until smooth.
Get Your Hand Ready. Keep your hand still for nine minutes. When mold is hardened, wiggle your hand out. The mold hardens in 3 to 9 minutes. If you use warm water, it will be on the short end of the time range.
Mix your plaster. Once plaster is ready (this will be the material for the finished project) and then carefully fill in the mold you created. 
Reveal Your Creation. Let the plaster dry and then when it's ready, flip the mold and remove the mix to reveal your sculpture.

The Ten Best Wooden Play Kitchens For Kids
Cooking is a timeless fascination for children. This type of play goes beyond gender and teaches kids loads of life skills along the way. An investment in a play kitchen is money well spent, as it can provide hours of entertainment. We've rounded up the ten best wooden play ...read more
New Victory Announces a New Season of Shows
We know you're busy planning picnics and summer outings, but we wanted to let you know that The New Victory just announced their new season and it looks fantastic. We thought you'd like a sneak peek of what's in store! Each year the New Vic theater brings culture to tourists and ...read more
Fun Ways to Discover Venice Italy with Your Family
Greetings from Italy wear the gelato is rich, the clothes divine and the scenery is inspiring. Now that I've been to this fine city in the north of Italy, twice, I've amassed a list of favorites to share. These are some fun ways to discover Venice, Italy with your family. ...read more
Head here to get more details on creating your sculpture.
The Perfect Gift for Your Family
Pearl of My Heart Creative gifts are perfect for someone celebrating a new baby, engagement, or anniversary. It's the perfect way to create a unique and memorable keepsake of their special occasion.
Since we are all at home more, this is the perfect project for your family. You can even get the family dog into the fun. Don't worry, even if they wiggle a little it won't ruin your beautiful creation. These kits capture incredible details--you can even include your jewelry. 
Kit sizing is available for babies, adults and there's even a fun family kit that will fit up to 4 hands.
Get order your kit here: https://pearlofmyheart.com/
Win it!
Three members of the Momtrends community are going to win a Pearl of My Heart kit. Winners can choose from these 3 choices: Baby Kit, Adult Kit and Family Kit. Prize value is up to $70 per prize.
This is a sponsored post.