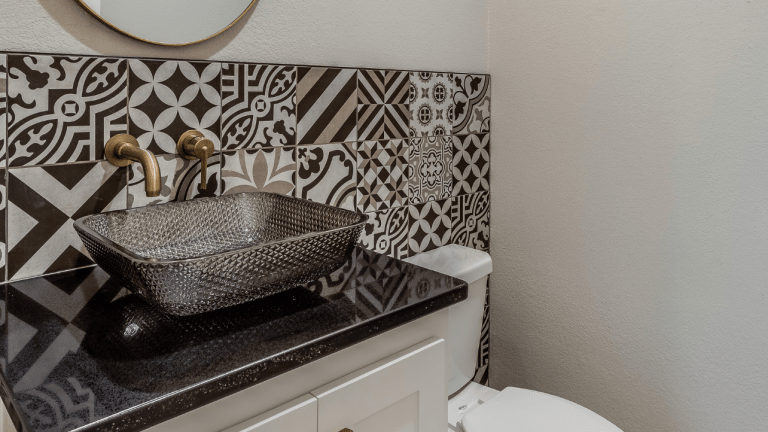 Powder Room Inspiration
Get inspired to turn your smallest neglected bathroom into a something special.
Let's talk about powder room Inspiration--another underdeveloped corner lurking near the front door, the entrance to the garage, under the stairs, or in the case of builder standard homes, the worst possible place it could ever be (you choose). No silly, I'm not talking about your closet. You can wipe the sweat from your brow now. I like to call it Jan.
Related: Rinse recycle reimagine bathroom recycling
Jan is the half bath or powder room. Jan is the little one toilet, one washbasin room formally known as the 'Powder Bath'?. Jan rarely gets used except by your parents (they're judging you), your in-laws (they're really judging you) and your best friends (need I say it?). Most of us have a Jan. Every tract home built from 1971 until present day has one somewhere. Oftentimes Jan gets a splash of towel and a crocheted Renuzit cover in the shape of a really out of style debutant. We kind of leave her to fend for herself while we spend our efforts and our earnings on Marsha, the master suite. And of course who could forget Cindy, the cute bathroom in between our children's rooms whose walls are graced with childhood delights and whimsical patterns?
The reality is that Jan is the perfect place to let it all out. To put the proverbial balls to the wall. To get down and dirty with Design Resolution no. 2. Color.
Here's the deal, I think that as a designer, many people get stuck in the powder room simply because it's this small hole of a space. We've been ingrained to think that dark colors and busy patterns serve to only make a small space feel smaller. We're afraid to get down with our bad selves. But remember: It's Only Paint. Even better, you can close the door and boycott using the powder bath until you're ready to paint again.
I love the powder room. It's one of my favorite places in any home quite simply because we can take an otherwise mundane room and turn it into a jewel box. Get dramatic. Sure you might have a beautiful kitchen or a spectacular family room, but let the powder room serve as that pow of an impression. Guests will be wowed. In-laws will love you a little bit more (maybe). You or your other half might get that promotion when the Boss' Boss comes over for pot roast.
I say paint a dramatic color. In fact, go as dark as possible. Navy blue. Jet Black. Pink? Hot Pink? Go gloss. Oh yeah. Forget how small you think it will make the room look. It's a small room to begin with and it isn't like you're hosting a dinner party in the loo.
Or stripes. I love stripes. Horizontal to emphasize the length of your walls or vertically to give the powder bath a little height. Although I like a great contrast (like black and white) I'm also a big fan of tone on tone for the color scardey cats.
Wallpaper? Yes please! You can get away with bold patterns or even that slightly more expensive printed paper you've had your eye on for years quite simply because you need less to cover the walls.
Want a quick fix without the pain of painting behind the commode? Art. Framed photos. Favorite prints. Random paraphernalia hanging from the walls. Go en mass for the most dramatic effect. Don't be afraid to line one wall with nine black framed prints of Parisian cemeteries.
Remember, the beauty of this small space is that it doesn't take much to make a dramatic emphasis. Two gallons of paint or a day framing photos in Ikea frames. Small costs make big bangs. And by big I mean go big or go home.
You don't need my approval. Get out the brushes and go nuts. Now. Before the excitement wears off.
And when you're done, send me a photo. I want to see your handiwork!
MORE DESIGN TIPS FROM MOMTRENDS
PIN IT!
Need more ideas on what to do with the kids? Be sure to follow our Organization board on Pinterest here.
Momtrends was not paid for this post.