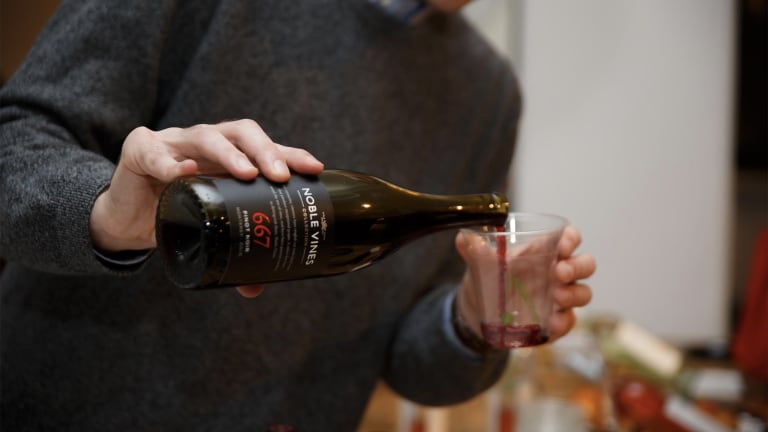 Pour and Pair Your Wine This Season
Sip on Noble Vines
The holiday entertaining season is officially in full swing. Parties, fundraisers, and shindigs abound! 
I'm hosting an intimate holiday dinner at my home this weekend, and trying not to sweat the details. Good food, great wine, and fabulous company: that's the recipe for a perfect party. 
Still, hosting can be hard work. To reduce the holiday headache and seasonal stress, I'm simplifying and streamlining my menu with a few delightful and delicious pairings and some of my favorite wines from Noble Vines.
Noble Vines encourages wine lovers to discover a variety of flavors with its sophisticated varietals. Featuring sleek packaging, each bottle displays distinctive red numbers, which correlate to the types of vines used for each wine in the Collection. And each bottle is an affordable luxury retailing for less than $15--so I can stock up without worry (and they make a great host gift too, BTW!).
I absolutely love the Noble Vines 337 Cabernet Sauvignon. It boasts lively aromas and flavors of black cherry, ripe currant, fresh herbs and lightly roasted coffee. Supple tannins and balanced acidity support core flavors of blackberry, black cherry and toasty oak, intertwined with spicy black pepper accents. It is rich and complex, and satisfying. It'll go great with the Filet Mignon Skewers I'll be serving with my homemade BBQ dipping sauce to enrich the currant and roasted coffee of the Cabernet. (The pros at Noble Vines also recommend herb roasted pork loin, baked chicken, barbecued steak and sautéed mushrooms.)

While we're generally Cab sippers in my home, some friends prefer white; and so we'll also offer the Noble Vines 446 Chardonnay. It features aromas of ripe pear, pineapple and melon. Medium-bodied with a creamy mid-palate, it has the flavors of peach and coconut, with hints of lemon and toasty vanilla spice. It'll be delightful paired with the shrimp cocktail appetizer I'll be serving before dinner. (The pro at Noble Vines also recommend soft cheeses, seafood, salads, pasta in wine or cheese sauce, or roast fowl.)
Of course, I'll also have Noble Vines 667 Pinot Noir available and their newest varietal: Noble Vines 515 Rosé (it's always rosé season in my book!). 
What are your favorite wine pairings? 
This is a sponsored post