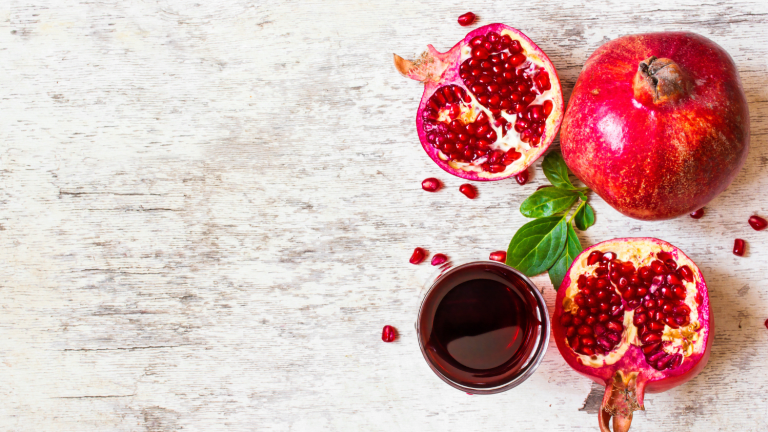 Pomegranate Mimosa
A pomegranate mimosa perfect to serve with your holiday brunch!
Always brunch! And what better cocktail to have with brunch than a mimosa? With the holidays quickly approaching, gatherings will be happening more frequently as we focus more on quality time with family and friends. If you have little ones like I do, evenings can be hard to pull off. That lovely witching hour that is bedtime does not recognize the holidays as anything other that a normal day. And a screaming toddler isn't too fun to try and talk over either.
Avoid the added stress and late bedtimes by hosting a brunch instead of an evening party this holiday season. Besides, who doesn't love all the breakfast yummies a brunch provides? Bacon is great any time of day, but eggs and pancakes are harder to pull off for dinner parties. I find that brunches are easier on the waistline and help me stay on track nutrition wise too. A fruit tray is perfect with brunch and omelettes or scrambles with lots of veggies, YUM! They're easier on the hostess too, which is important! This way you can gather with a delicious and nutritious breakfast spread and whip up this fall twist on a classic mimosa.
Mimosas are one of my favorite "light" cocktails. Bubbly and fun, they keeps things lighthearted for a holiday gathering. Besides, who doesn't like an excuse for these delicious cocktails? For some reason this sparkling Italian wine seems to be reserved only for special occasions. I vote we change that!
Pomegranate Mimosa Ingredients
1/8 cup Orange Juice
Prosecco
1/4 cup Pomegranate Juice 
Fresh Pomegranate for garnish (optional)
Pomegranate Mimosa Directions
Pour the OJ and pomegranate juice into a flute
Fill the rest of your flute with Prosecco
Garnish with pomegranate seeds and serve! 
To Brunch or not to Brunch?? If it gives you a reason to serve this pomegranate mimosa, TO BRUNCH it is! Simple and Delicious :)
MORE FUN SIPPING IDEAS FROM MOMTRENDS
PIN IT!
Looking for more food ideas? Check out the Momtrends' Wine Time on Pinterest!
This is not a sponsored post.