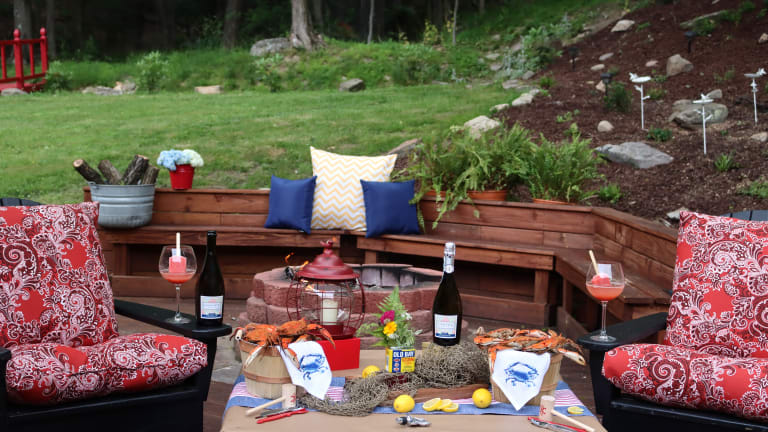 Publish date:
Plan a Summer Date Night Before It's Too Late
A seafood feast for two with something bubbly to drink is the perfect end of summer date night.
A seafood feast for two with something bubbly to drink is the perfect end of summer date night.
While the weather is sublime, we implore you to plan one last summer date night before it's too late. We've whipped up a stress-free crab feast that brings sweet sips and seafood together. 
Related: Cheap and fun summer date night idea
Ordering a Seafood Feast from Goldbelly
How are your date nights going? Here at Momtrends HQ we are struggling to make time for them, but oh when they happen it's as good as gold. Since dinners out are really hard to orchestrate, we absolutely love Goldbelly.
Goldbelly is a company that brings the best restaurants to your home. They have figured out how to ship everything from ice cream to sushi. For this date night we've ordered in crabs. Since I grew up in Maryland, this one is near and dear to me. I used to go crabbing off my back dock. 
Since I can't get to Maryland right now, I'm tapping into my childhood memories with a Goldbelly delivery from Cameron's Crabhouse in Maryland.
Cameron's Seafood is proud to be a True Blue certified partner which means that they only sell 100% Authentic Maryland crabs. Yes, they do taste different than other crabs, and they do require a certain bit of skill to get the meat out. But is worth the effort to obtain the sweet goodness inside. 
These large blue crabs are caught, steamed to perfection and carefully packed the same day your order ships.
Find our more about GoldBelly here.
What to Drink with Your Summer Crab Feast
For a sweet summer treat, we're drinking one of our summer favorites, a Prosecco pop. Gooseneck Vineyards' Prosecco gracefully opens with a beautiful straw color coupled with a nose of fresh citrus and whispers of tender apricot. Bubbles tickle gracefully, as prominent notes of pink grapefruit are followed by flutters of green apple. The finish is as relaxing as its label suggests: crisp, refreshing and stylish.
To make this drink, just add your favorite popsicle and dip it into an ice-cold Prosecco

Five Tips To For a Girl's First Leg Shave
Do you remember your first time shaving? Mine wasn't pretty. I snuck my dad's razor and shaved my legs dry. It wasn't pretty. Get your daughter ready for this rite of passage with the right tools and a quick education. We've got five tips to help you navigate your daughter's ...read more
Why You Should Add Wild Blueberries to Your Diet
Do your New Year's goals involve healthier eating? Adding more fruits and vegetables to your diet? Or even adding tasty new recipes to your repertoire? We've got five reasons for you to add wild blueberries to your diet. Our friends from the Wild Blueberry Association have ...read more
Why Moms are Loving This Blueberry Couscous Salad
It's blueberry picking time. And while most blueberry recipes revolve around baked goods, we've got something different to share. First, a few sentences singing the praises of this lovely fruit. Blueberries are high in antioxidants, improve memory function and reduce the effects ...read more
Order online here www.gooseneckvineyards.com/at-our-winery.
Save 20% on your order with CODE: Momtrends
Setting Up your Perfect Summer Date Night
Setting Your Crab Feast table is easy. This is a messy date night, so no need for anything fancy. We rely on butcher paper for our linens. To add some "spice" to the table, we used an empty Old Bay canister for our flower arrangement. Isn't it cute! And it will look great long after the date is over. 
Don't forget to put on something cute, it doesn't have to be fancy, check out this idea for inspiration.
We hope this theme inspires you. Don't worry, there's going to be more coming soon!
Don't forget to order your Gooseneck wine online here www.gooseneckvineyards.com/at-our-winery.
Save 20% on your order with CODE: Momtrends
MORE SUMMER FUN IDEAS FROM MOMTRENDS
PIN IT!
Be sure to use Pinterest to save your favorite ideas for date night. And for more Summer Fun, be sure to follow this board.