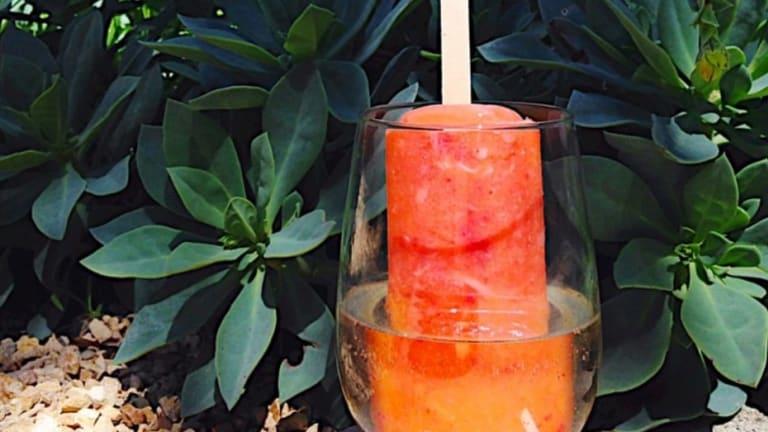 Perfect Summer Champagne and Popsicle Cocktail
Don't let the kids have all the frozen treats this summer. Save a popsicle or two to make this summer Champagne popsicle cocktail.
Maybe it's the warming weather. Maybe it's the sore throat that been going around. But for some reason, it seems to be increasingly common to find a package (or two) of popsicles in my freezer. Which makes this two ingredient cocktail one of the easiest to make this Saturday.
Related: Perfect summer rose wine popsicle recipe
Champagne and Popsicle Cocktail
This recipe is pretty effortless, and if you are a laid-back summer mom (kudos to you), you've likely got everything at your disposal. You'll need some Prosecco, sparkling wine or champagne, nothing too fancy and a frozen treat. 
I opted for Trader Joes' fat-free Caribbean Fruit Floes, but am also interested in trying these with TJ's triple layer Fruit Frenzy Bars popsicles with layers of grape, tangerine and blood orange. A tangy fruit pop like mango or guava would also be great. 
Champagne and Popsicle Cocktail Ingredients
Popsicle flavor of your choosing
Champagne, Prosecco or other sparkling wine
Champagne and Popsicle Cocktail Directions
Pour half glass of COLD champagne or other sparkling wine into a wine glass or martini glass. Taste test first. You know, just to be sure it's good.
Open popsicle.
Put popsicle in wine and let sit.
Now you have two important options. You can swirl the popsicle around in the wine, turning your wine into a slowly fruit-flavored slushie. Or you can take the wine-soaked popsicle out and eat it. Both are excellent options to consider.
Like we said, this is a treat for all the hard working mamas out there who are keeping it all together this summer. 
MORE WINE LOVERS FUN FOR MOMS
PIN IT!
Use Pinterest to save your favorite cocktail ideas. Be sure to follow our Wine Time board here.