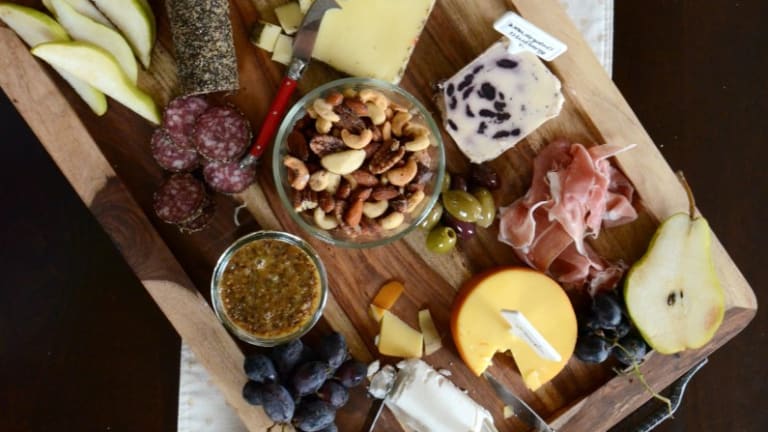 Perfect Fall Cheese Board
With the weather getting cooler, it's nice to get together in someone's home and have a wine and cheese night.
Fall is the perfect time to host gatherings with family and friends in your home. We're not just talking about Thanksgiving either. With the weather getting cooler, it's nice to get together in someone's home and have a wine and cheese night. For our fall entertaining we're sharing how to create the perfect cheese board.
Related: Fall mantle decor ideas
We're all about the wine and cheese these days. Okay, every day. And we even got into the DIY kits from Gardener's Supply. The mustard and cheese kits are a great indoor activity once the weather starts to get cooler.
Start with a large wooden cutting board or serving tray like this one from HomeGoods. We suggest wood because we love the warm rustic feel that wood gives.
Create the Perfect Fall Cheese Board
A cheese board is a simple but elegant way to feed your guests. There isn't much fuss to pull this together but it makes a stunning presentation. You'll look like you have everything together, even if you don't! A cheese board needs a variety of cheeses, meat, and extras. Here is what we included in our perfect Fall cheese board.
Cheese
Mozzarella
Gouda
Goat Cheese
Wensleydale and blueberries
We picked some pretty common cheeses we thought people would like: Mozzarella and Gouda. Goat cheese was a bit more out there and honestly we got someone hooked! The Wensleydale cheese was a pretty addition with the blueberries mixed into it.
Meat
Peppered salami
Prosciutto
We kept this simple with a log of peppered salami and pile of delicious prosciutto. You could even wrap the prosciutto around a slice of pear. Yum!
Fruit
Pears are a delicious Fall fruit. Dark purple grapes were an obvious choice. We really wanted figs but the two stores closest to me didn't have them.
Extras for Your Cheese Board
Olives
Mixed nuts
Honey
Homemade Mustard
A little bit of crunchy, salty and sweet to finish off the perfect fall cheese board. Honey is especially good on the Goat cheese or Wensleydale cheese.
And, finally you will need crackers. We picked up a selection of different, shapes and textures. Ritz, triscuit, multigrain (my favorite) and mini toast (seriously, cute!). Serve it all with a few bottles of your favorite wine and boom! It's easy to pull together the perfect cheese board now that you know what all you'll need.
Since we love being in the kitchen so much we invested some extra time into our Gardener's Supply DIY mustard and cheese kits. Totally not necessary, but if you're a foodie, they are so much fun! Also, think of the conversations "try our handmade mustard" or "our homemade gouda pairs well with pear!".
Happy Fall entertaining!
MORE FALL DECOR FROM MOMTRENDS
PIN IT!
Use Pinterest to save your favorite ideas from Momtrends. Be sure to follow our Home Inspiration board here.
This is not a sponsored post. We did receive samples to review.