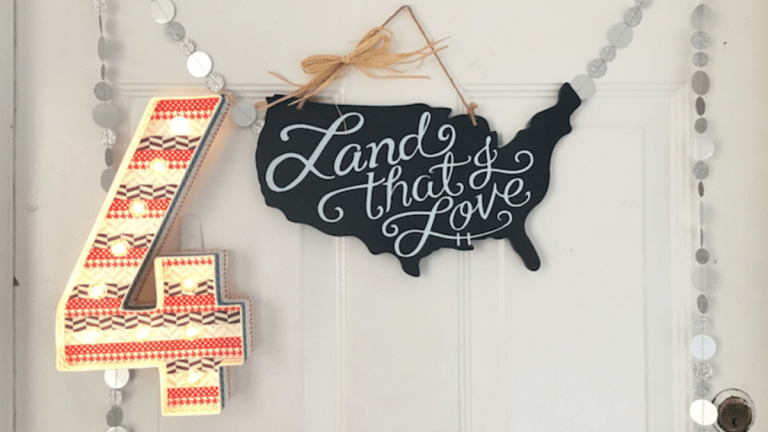 I know it's hard to comprehend, but did you know that in the 1700's there were no cell phones? No emails? No texts?!? To communicate, everyone wrote letters. As I've stated many times before, letter writing is a major part of my correspondence with family members, co-workers, and friends. This year for my 4th of July party, I'm including the lost art of letter writing in my decor and activities.
Related: Throw rustic 4th of July family party
Throw a Crafty 4th of July Party
One thing I should note about my 4th of July party planning is that I think less is more. For my front door, I chose a silver circle banner, a USA cut out map sign, and this Heidi Swapp 4 decoration that I covered in washi tape. 
Teleflora sent a fabulous patriotic flower bouquet and I knew that would be my centerpiece. I wanted to serve thematic foods (things that are red, white, and blue) but I also didn't want to do anything heavy or over the top. I decided on blue corn chips with a sour cream and tomato dip. To prevent the sour cream from getting everywhere, I used a medium sized circle cookie cutter to keep it in place. As you can see, I used a mini envelope and a vial of glitter to create food place cards.
4th of July Party Snacks
I made fruit cups using whipped cream cheese, blueberries, and strawberries. You can add whipped cream on top or use honey from these quick honey packs from Wedderspoon. (These things are a life savor, by the way. Easy to use and perfect for on-the-go).

Five Tips for the Perfect Pumpkin Patch Visit
It's that time of the year again...pumpkin patch time! While I love a nice Pumpkin Spice Latte as much as the next fall lovin' girl...for me, the season is all about spending time with my family...and hopefully that time is spent outside as much as possible. If you're headed out ...read more
Perfect for Fall Pumpkin Spice Dirt Bomb Recipe
Get your pumpkin spice fix with this tasty dirt bomb recipe. Unlike fried donuts, this recipe is a little lighter and, since no hot oil is involved, a lot less messy. These dirt bombs, or baked donuts, are irresistible cakey muffins that are spiked with nutmeg and ginger, and ...read more
Save Money at a Ski Swap
Are the slopes in your future? If you want to save money on ski gear, consider a ski swap. A swap is a great way to buy and sell used equipment. Most swaps consist of a variety of gear, from brand new to used skis and snowboards to skis; from poles to boots to bindings and ...read more
DIY 4th of July Party Supplies
To make paper plates a little bit more exciting, I punched three holes in the side and knotted red, white, and blue bakers twine. I used mini envelopes and a tiny version of the fruit tin to make place cards for guests.
4th of July Party Activity
Everyone was also given the opportunity to write a letter. Stamps, plain stationery and red and blue pens were placed around so that people could write and create whenever they wanted. I like organized activities, but giving someone the opportunity to be creative on their own time usually garners more results.
We hope you like these tips for having a fabulous 4th of July. Stay safe, have fun, and enjoy!
MORE 4TH OF JULY IDEAS FROM MOMTRENDS
PIN IT!
Use Pinterest to save your favorite ideas for summer fun. Be sure to follow our 4th-of-July board for more inspiration.
Momtrends was not paid for this post.