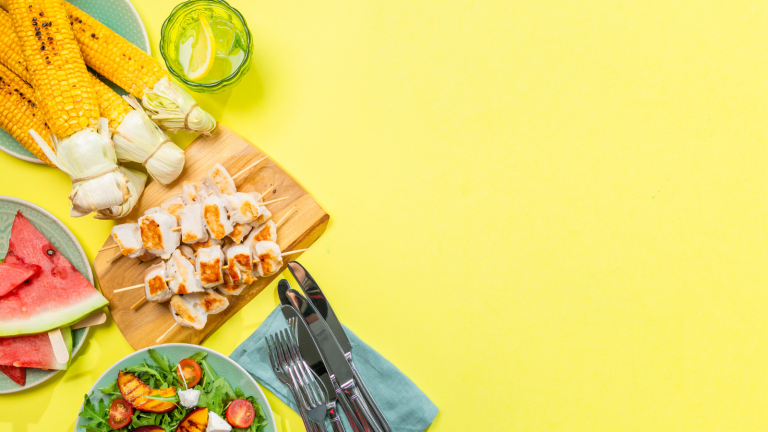 Outdoor Dining Summer Life Hacks using Aluminum Foil
These clever summer hacks will come in handy as you are entertaining and enjoying time outdoors this summer.
We recently just had our first birthday party in the park as we celebrated the birthday of my second daughter. This meant a relaxed day for my guests, but I a lot of prep work for me. To keep with the picnic theme I had guacamole, hummus, sandwiches, pasta salad, quiche, and homemade cupcakes. 
Related: Cheap and fun summer date night idea
Products from Reynolds are also great for a variety of summer entertaining options from a barbecue, a boating excursion, or a pool party, there's no doubt that warm weather provides plenty of opportunities for relaxing (and eating!) with friends. And don't forget to cook up some foil packet dinners.
Summer Party Hacks 
These clever summer hacks will come in handy as you are entertaining and enjoying time outdoors this summer. 

Foil Rings: When grilling round foods like onions, stuffed peppers and apples , twist crumpled foil into donut-shaped rings to hold ingredients steady on the grill.
Remove rust: Dip foil in water and rub along rusty surfaces like grill plates, steel blades and underused appliances to regenerate them in no time. Since aluminum oxidizes faster than most other metals, it's a safe and effective tool for getting rid of dirt, debris and rust.
DIY can and bottle koozies: For a creative, DIY spin on foam koozies, wrap your drink in foil to keep it cold out of the cooler and use a permanent marker to avoid confusion over who's drink is who's!
Foil drip pans: An indispensable tool for soaking wood chips, marinating and indirect grilling. Make drip pans by molding Heavy Duty Foil over an inverted baking dish and placing below the grates to collect moisture from the food above.
Instant picnic placemat: Foil works great for packing up sandwiches and veggies to bring to a summer picnic, but the bonus is that unfolded foil makes an instant surface for clean, efficient eating on-the-go.
Warming tents for meat: Steaks, chops and grilled chicken tastes best if allowed to rest for a few minutes before serving. Loosely tent with foil to help keep the food warm.
Preserve leftovers: Wrap leftover veggies from a party of BBQ in foil, then refrigerate to keep food fresh for up to six weeks (or, if you want to buy food far in advance, preemptively wrap it in foil so it's just like new when you're ready to use it)
DIY Twist Ties: If you don't have a twist tie handy, just tear a thin strip of foil and wind it into a rope and twist around the package to hold in place.
MORE SUMMER FUN IDEAS FROM MOMTRENDS
PIN IT!
Be sure to use Pinterest to save your favorite ideas for date night. And for more Summer Fun, be sure to follow this board.
Momtrends was not paid for this post. We were given some samples.