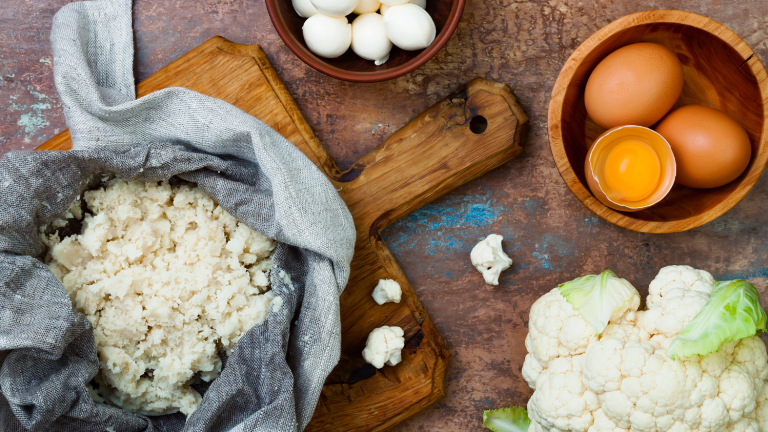 Our Favorite Cauliflower Pizza Recipe
Rethink your pizza crust and try our favorite cauliflower dough recipe.
Calling all pizza lovers! Who among us doesn't love the simplicity and joy of a combination of tomato, cheese and dough. I'm not one to disregard tradition, but I do like update old favorites with healthy twists. It's time to rethink your crust and try our favorite cauliflower pizza recipe.
Related: Best pizza and wine pairings
Cauliflower Pizza Ingredients:
 ½ cauliflower
1 egg, free range or organic
1 onion, finely sliced
1 tsp. cold pressed extra virgin olive oil
1 tsp. ground cumin
1 tsp. fresh rosemary, finely chopped
1 tsp. fresh sage, finely chopped
Himalayan salt and ground pepper, to taste
Toppings of your choice
Our Favorite Cauliflower Pizza Directions
Preheat oven to 350 degrees.
In a food processor, pulse the cauliflower until it's the consistency of fine crumbles. You can either steam the cauliflower first or use it raw; it works both ways.
Place the cauliflower in a tea towel and squeeze as much moisture from it as possible. Remember, the key is to make a crispy pizza base.
In a mixing bowl, add the cauliflower and combine with an egg, onion, herbs, spices, olive oil and seasonings. This will be your base.
Line a baking tray with a sheet of baking paper, and then flatten the cauliflower base in the center of the tray. Lay a second sheet of baking paper on top and use your palms to flatter. You can also use a rolling pin for this.
Bake in the oven for 20-25 minutes or until firm and slightly browned.
Take the base out of the oven and add toppings. Delicious options include mozzarella, broccoli, zucchini slices, onion, mushrooms and tomatoes.
Pop it back in the oven for another 10-15 minutes.
Take the pizza out of the oven and allow to cool for a few minutes before serving.
To inspire us with some new ideas, we are excited to share a recipe for Cauliflower Pizza from International Health & Lifestyle Advisor, Jessica Sepel. Author of The Clean Life, Rebuilding Your Relationship with Food, Body and mind, Jessica's policy to a healthy lifestyle is informed by a well-researched understanding of nutrition, and complemented by a passion to achieve physical and psychological balance. Jessica's approach towards health and nutrition aims to push people to live the best possible lifestyle, and she believes in order to feel better, we must first be better. Enjoy the recipe and happy Monday!
MORE STAY-IN IDEAS FROM MOMTRENDS
PIN IT!
Looking for more food ideas? Check out the Momtrends Recipe Board on Pinterest!