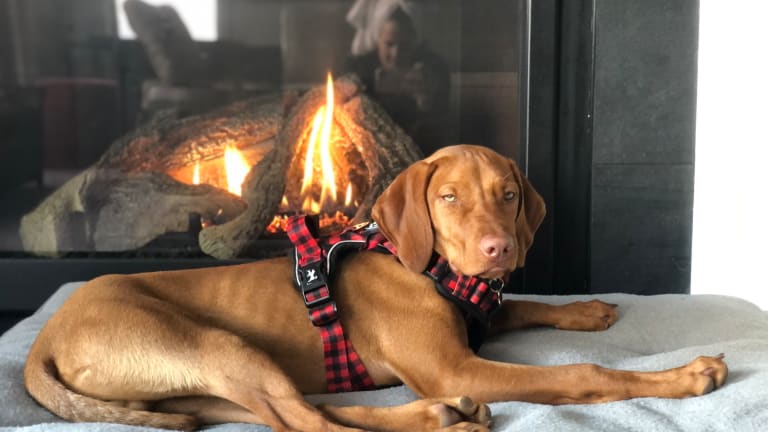 Money Smart Guide to Pet Insurance
Pet insurance can help families manage unexpected expenses and give dog's the best healthcare possible.
Like millions of other families, we got a pandemic puppy. Last December, we put down a deposit for a Vizsla. We picked up Kingsley in the middle of the pandemic and are absolutely in love. Our new fuzzy friend is not without added responsibilities. Currently, I am researching how to best take care of his health. Since many of us are in the same boat, I thought I'd share a money smart guide to pet insurance.
Related: Finding the perfect dog crate
Why Get Pet Insurance
According to Investopia, The cost of a single surgical vet visit is estimated to be $426 for a dog and $214 for a cat. Fees can quickly add up in an emergency. Consumer Reports says "Cancer treatments can easily run $5,000; surgery to fix a torn ACL from, say, a poorly executed jump off the sofa can cost about $3,300. Pet insurance is sold with the promise that by helping to cover some of your pet's medical bills, you won't be forced to consider "economic euthanasia" in the most dire circumstances." We decided with our active, curious dog, insurance made sense, here's what I found out during my search. 
Momtrends Tip: Keep detailed records with your vet. Like human insurance, there is paperwork involved. Unlike human hospitals, you usually have to pay the vet bills at the time of treatment, submit your claims and then wait for reimbursement.
Money Smart Guide to Pet Insurance
Start Young: Preexisting conditions won't be covered, so the sooner you sign up for pet insurance the better. 
Research your breed: Many breeds have specific health concerns. Vizslas are known to get Mast Cell tumors. Knowing I could be in for this expense will help me make decisions about deductibles.
Get recommendations: I talked to my breeder and my vet about about insurance. They both made specific recommendations and this helped me narrow down decisions.
Compare the Numbers: You'll need to look at deductibles, co-payments, and premiums when you make your decision. 
Comparing Pet Insurance Rates
After talking to our vet and breeder, we narrowed it down to three choices. I was comparing an annual reimbursement limit of $10,000, a $750 deductible, and a 90% reimbursement
Nationwide Pet Insurance: Nationwide comes highly recommend from our vet and from other Vizsla owners. $51.25 month with a $250 annual deductible for the "major medical + wellness" or $33.25 for simple major medical. I couldn't find the information about the reimbursement limits. Get more details here www.petinsurance.com
Trupanion:  Rates ranged from $84 to $30 per month. When I entered the details of a $750 deductible, it went to $29.20/month. They say this offers 90% coverage for new injuries and illnesses. The biggest upside of this insurance is that there are NO annual reimbursement limits. This is the plan we picked. Get more details here https://trupanion.com/
Embrace: $77.31 per month with the details above, with a higher deductible and lower limits, it's possible to get the rate below $50/month. Get your quote here www.embracepetinsurance.com
MORE PUPPY LOVE FROM MOMTRENDS
PIN IT!
Use Pinterest to save your favorite pet tips and be sure to follow Momtrends. Be sure to follow our Puppy Love board here.
Momtrends was not paid for this post