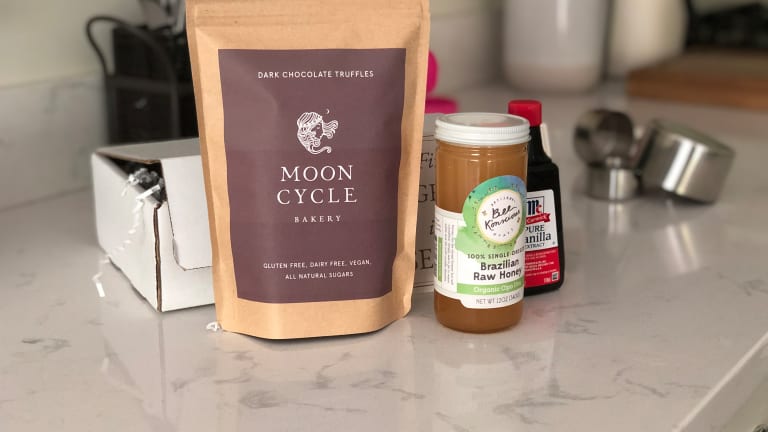 Mixing Up Truffles to Make Life Better
Sweeten up your baking with a new rich and delicious truffle mix that will make beginner bakers look like professionals.
We've done so much baking and cooking over the past four months. It's been an epic effort to keep feeding these people. I'm so thrilled with the banana bread my girls are contributing, but every now and then, I want a more sophisticated treat. Something like a truffle. Before I had Moon Cycle send me a new mix, I thought truffles were complicate. Now those of us who are beginners can mix up truffles to make life better. 
Related: Favorite honey recipes to sweeten your family menu
Yes. Truffles can make life better. We all are doing so much. Some of us are trying to change the world, some of us are changing diapers. Some are doing both. And all of us deserve truffles.
When writing this review, I started to think about truffles. The work means "lump" they are named after the mushrooms because of their shape. ll, "truffle" is derived from a LATIN word meaning "Lump". The classical truffle recipe is made of a ganache, which is a mixture of bittersweet chocolate and heavy cream.
Moon Cycle Bakery has a dry mix that's making all home chefs capable of making a perfect truffle. Moon Cycle bakery launched this product in the middle of COVID-19, because we all need a treat and we are all in the kitchen looking for inspiration.
You can get the mix delivered to your doorstep. It's great for a casual date night or a Father's Day celebration. All you need is a few wet ingredients from your pantry and a bit of time.
Get your Dark Chocolate Truffle Mix ($19) at mooncyclebakery.com.
More About the Mix
Moon Cycle Bakery Truffle Mix is gluten-free and the recipe can be made vegan by replacing the honey with maple syrup.
The mix is made with sweet coconut butter, pure cacao powder and spices cinnamon and ginger (and zero refined sugar). It took about 10 minutes to make the mix, then we let it cool, we rolled it into balls and chilled the balls. It's a treat that's ready to enjoy pretty quickly.
Once the truffles were chilled to the right temperature, I brewed some tea and enjoyed. They were delicious!
You can personalize the mix. We added some dark chocolate chips. Here are some ideas:
Crush your favorite nuts and roll each truffle in them.
Add coconut flakes to the mixture
Throw in your trusty nut butter
Pretzels + truffles = a really great idea
More About the Name
Yep, like the name sounds, Moon Cycle also has a tie to our menstrual cycle. According to the founders, cacao is a magnesium powerhouse, which studies have shown helps to combat PMS symptoms such as cramps, headaches, bloating and more.
I'm not positive if this is true but I do think chocolate makes most things better!
Giving Back

Moon Cycle Bakery profits help support Black Visions Collective. BLVC believes in a future where all Black people have autonomy, safety is community-led, and we are in right relationship within our ecosystems. Find out more here www.blackvisionsmn.org
MORE FOOD IDEAS FROM MOMTRENDS
Need more weeknight dinner inspo?
PIN IT!
Use Pinterest to save your favorite recipes. Be sure to follow our Healthy Eats board
Momtrends was not paid for this post.