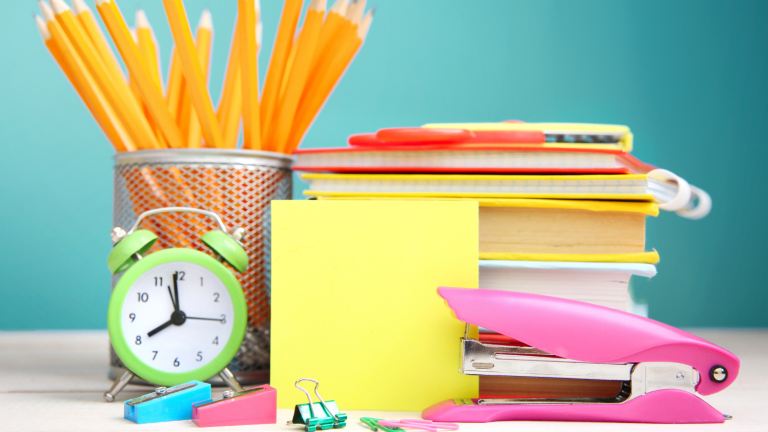 Anyone else drowning in back-to-school paperwork? The very first day my three kids came home from school with at least 30 pages each of forms and information and calendars and supply list and aaaahhhhh! We're already a few weeks in now and already my desk has a growing pile of soccer schedules and artwork and classroom reminders and permission slips. Sounds familiar? Here are 3 ways to manage the back-to-school paper overload.
Related: Journals and planners to get mom organized
1. There's an app for that.
You live on your phone so make it work for you by getting important dates and times on a digital calendar now. Toss the paper soccer schedule and school snack calendar and put it all on a calendar app. Color code after school activities by kid, share calendars with your spouse or S.O., and set reminders for items like buying snacks for Girl Scouts or what days you are helping in the classroom. Using a digital calendar will help you stay on top of things and keep your desk clean(er).
2. Make it digital.
If you need to save the information but want to toss the physical paper, pick up one of these space-saving portable scanners. I use this one that connects seamlessly with Evernote so that info about how to log on to see my kids' grades online or the outline for the monthly book report is saved - digitally. Then instead of digging through a mountain of saved papers looking for that one piece I need to reference (because that's always fun), I can easily search Evernote with tags and keywords to bring up the needed doc with ease. This can be a great way for kids to save important info for their classes too.

Save Money at a Ski Swap
Are the slopes in your future? If you want to save money on ski gear, consider a ski swap. A swap is a great way to buy and sell used equipment. Most swaps consist of a variety of gear, from brand new to used skis and snowboards to skis; from poles to boots to bindings and ...read more
The Ten Best Wooden Play Kitchens For Kids
Cooking is a timeless fascination for children. This type of play goes beyond gender and teaches kids loads of life skills along the way. An investment in a play kitchen is money well spent, as it can provide hours of entertainment. We've rounded up the ten best wooden play ...read more
New Victory Announces a New Season of Shows
We know you're busy planning picnics and summer outings, but we wanted to let you know that The New Victory just announced their new season and it looks fantastic. We thought you'd like a sneak peek of what's in store! Each year the New Vic theater brings culture to tourists and ...read more
3. Preserve with a pic.
I saw this brilliant idea for managing artwork on Instagram recently from graphic designer and mom of three Ashlee Proffitt. She laid out her kids' favorite artwork on white poster board and snapped a picture. Then she uploaded the pics to Shutterfly and made a book at the end of the year! No trying to decide which art projects are save-worthy. No trying to figure out how to store that life-sized silhouette tracing of your toddler. And best of all - No. Glitter. Projects. So put that collage on the fridge for a week and enjoy it. Then snap a picture to save for the end of the year and "file" the original in the good ol' "circular file" (aka the trash).
What are your tricks for managing the back-to-school paper overload?
MORE ORGANIZING TIPS FROM MOMTRENDS
PIN IT!
Need more ideas on what to do with the kids? Be sure to follow our Organization board on Pinterest here.
We were not paid for this post.