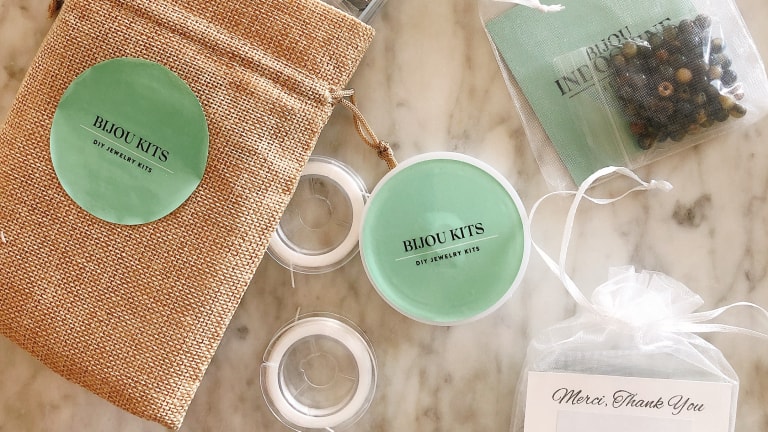 I fell for the Bijou Indochine jewelry designs by Natalie Bombet at the Momtrends Holiday event. I ended up doing most of my holiday shopping at her online store. When COVID hit, the clever entrepreneur pivoted and started making DIY kits. This week my girls and I have been obsessed with making beaded jewelry with Bijou Kits.
Related: Make an air plant terrarium
Making Beaded Jewelry with Bijou Kits
Here's where we are this summer. It's hot. The kids are bored. They are also a little testy thanks to all the rules and regulations (which are warranted) due to COVID. We are constantly looking for activities that don't require the internet. These beading kits are delivered with all the tools and supplies you will need to make 12 or more bracelets at home.
These kits are were the brainchild of Natalie as she worked her way though the Stay-at-home lifestyle. For the price of 1 bracelet you can make up to 15 bracelets on your own with a Bijou Kits.
Check our Our Video Experience
What comes in a Bijou Kit
The kits come in three different colors and each is $45. You'll get over 300 beads and all the tools you need to start designing. There are three colorways to pick from--each set has an energy associated with the beads.
Assorted gold & silver charms, pendants and spacers
Measuring tape for sizing
One bead stopper
Scissors
Two stretch cord tubes in two different sizes
There's also a "kid" kit. I found the adult kit was perfect for my girls who are 15 and 12. 

Five Tips for the Perfect Pumpkin Patch Visit
It's that time of the year again...pumpkin patch time! While I love a nice Pumpkin Spice Latte as much as the next fall lovin' girl...for me, the season is all about spending time with my family...and hopefully that time is spent outside as much as possible. If you're headed out ...read more
Perfect for Fall Pumpkin Spice Dirt Bomb Recipe
Get your pumpkin spice fix with this tasty dirt bomb recipe. Unlike fried donuts, this recipe is a little lighter and, since no hot oil is involved, a lot less messy. These dirt bombs, or baked donuts, are irresistible cakey muffins that are spiked with nutmeg and ginger, and ...read more
Save Money at a Ski Swap
Are the slopes in your future? If you want to save money on ski gear, consider a ski swap. A swap is a great way to buy and sell used equipment. Most swaps consist of a variety of gear, from brand new to used skis and snowboards to skis; from poles to boots to bindings and ...read more
No Instructions Required
We didn't read a single set of instructions. We simply opened the kit and got to work. That's my kind of entertainment. I don't want to be burdened with googling instructions and frustration. With these kits we just got to the business of creating. 
Whether it's a summer activity or rainy day bit of bonding, Bijou Kits make a great mother/daughter activity. I know I'm going to forget all the movies we've watched during COVID, but I will treasure my bracelet for years to come. 
Momtrends tip: you might want to check out this resource to find out how to use the bead stopper and make pretty knots.
Order your kit here https://www.bijoukits.com/
MORE IDEAS ON PARENTING TEENS FROM MOMTRENDS
PIN IT!
Use Pinterest to save your favorite ideas from Momtrends. Be sure to follow our Parents of Teens & Tweens board here.
Momtrends was not paid for this post.