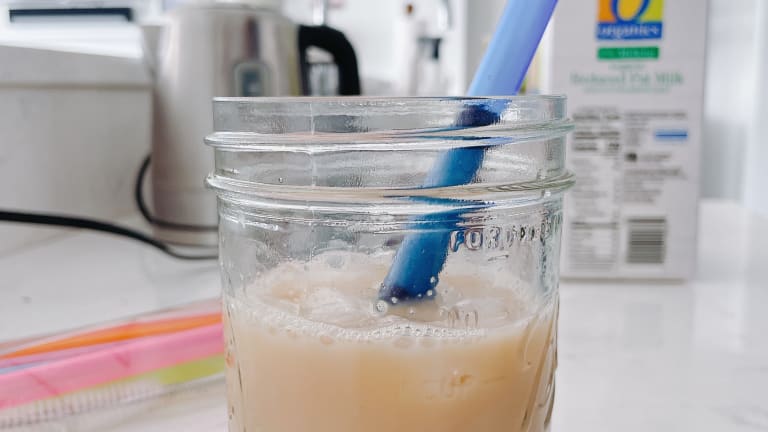 Make Your Own Delicious Bubble Tea at Home
Create this sweet Asian inspired drink that teens love at home with our fun recipe.
When we left Brooklyn for Vermont it was a BIG change. My girls miss the ease of walking to the local Hanco's bubble tea shop. Like everyone else, we had to get a little creative during the COVID lockdown, and my daughter learned how to make her own delicious bubble tea at home.
Related: Detox fruit-infused water
What is Bubble Tea?
Bubble tea is also known as Boba tea. The trend hit NYC in the early 2010's and was a huge hit withe teens and teens, because it's sweet and a little funky. It's a tea-based drink that originated in Taiwan in the early 1980s. It most commonly consists of tea (any kind) with chewy tapioca balls aded in.
I've tried it and it's "not my cup of tea." But I grasp why it's popular due to the unique taste and texture. 
Make Your Own Delicious Bubble Tea at Home
Most likely you'll have 90% of the ingredients at home. The trick is getting your hands on  Tapioca Pearls we found ours on Amazon, but they often sell out.
Bubble tea Ingredients
Two tea bags
Quarter cup of Tapioca Pearls
6 cups water
2 tsps brown sugar
Cinnamon
Almond milk (optional)
Delicious Bubble Tea Recipe
Cook the Tapioca Pearls: Bring 3 cups of water to a boil, reduce to simmer (stir frequently). Cook for 15 minutes, remove from heat and let the pearls sit for 15 minutes to cool. Drain water and set the pearls aside.
Pour tapioca pearls into a container and cover in
the brown sugar.
Brew Tea: Boil 3 cups of water, in a heat-resistant container, add two tea bag. Let tea steep. 
Remove tea bags from container. Add a sprinkle of cinnamon to tea and put in fridge to cool.
Add "bubbles" aka Tapioca Pearls into your glass. Pour in tea mixture, add almond milk to your taste and enjoy.
This drink is traditionally sipped through a wide straw so you can suck up the tapioca (what can I say, the teens like it). We like these reusable Bobab straws we found on Amazon.
Note, different tea flavors can provide different results. We used a cinnamon tea, but go nuts and experiment. Let me know how you tweak this recipe to make it your own!
MORE RECIPES FROM MOMTRENDS
PIN IT!
Use Pinterest to save your favorite recipes. Be sure to follow our Recipes to Inspire board.
Momtrends was not paid for this post.