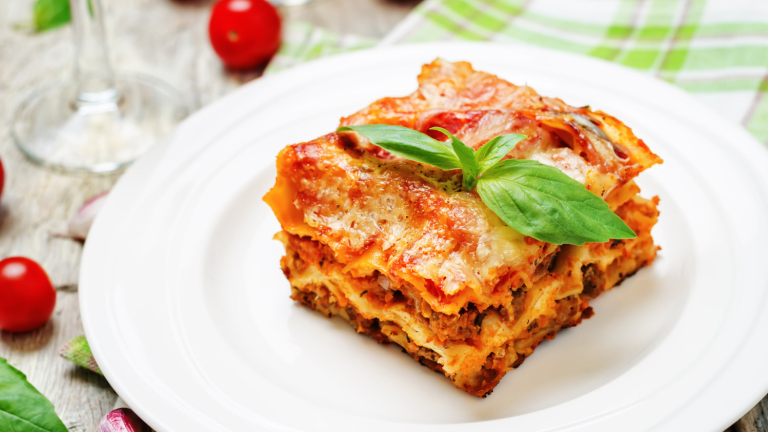 Low Fat and Short on Time Lasagna Recipe
A delicious lasagna that can be ready in an hour, with healthier ingredients
What are your big challenges with nightly meals? Making them healthy? Tasty? Meals that cook quickly for busy nights? All of the above?
Tania N. Boughton, author of Eating Light, Done Right: Simply Sinless Recipes from the Single Mom Next Door, offers a great new cookbook filled with ideas for recipes that are high in flavor and low in calories. As a single, working mom to two boys, her cookbook also features recipes that are doable for the busy mom, meals that can be made quickly and easily on a weeknight, between homework and soccer practice.
This week, we're thrilled to feature one of Tania's recipes, for a delicious lasagna that can be ready in an hour, without all the added calories!
Low Fat and Short on Time Lasagna Recipe Ingredients
2 pounds 93% lean ground beef
Cooking spray
1 ½ cups water
1 jar pasta sauce (I like the Healthy Choice or Ragu Light versions)
3 cups shredded part-skim mozzarella cheese, divided
2 1/2 cups low-fat cottage cheese
3/4 cup grated Parmesan (reduced-fat if you can find it)
3/4 cup egg whites
½ cup chopped flat leaf parsley
½ teaspoon black pepper
Oven-ready lasagna noodles (I prefer whole wheat for nutritional value)
Low Fat and Short on Time Lasagna Recipe Directions
Preheat oven to 350 degrees.
Cook the lean ground beef in a large saucepan coated with fat-free cooking spray over medium heat until browned. Drain off excess fat and stir to crumble. Add water and pasta sauce and bring to a near boil. Cover, reduce heat, and simmer for about 8 minutes. Remove from heat.
Combine 2 cups of the mozzarella, cottage cheese, Parmesan, egg whites, parsley, and black pepper in a bowl. Mix until thoroughly blended.
Spread 1 cup of beef mixture in the bottom of a 13 x 9-inch baking dish and arrange three or so noodles on top. Top with 1 ½ cups of beef mixture. Spread half the cheese mixture on top of beef. Continue layering noodles, beef, and cheese, finishing with one more layer of noodles and one more of beef.
Cover and bake at 385 degrees for 45 minutes. Then remove from oven and uncover, add remaining cup of mozzarella, and bake uncovered for 10 more minutes or until brown and bubbly.
Allow to cool and set for 15 minutes prior to serving.
MORE WARM UP RECIPES FROM MOMTRENDS
PIN IT
Save your favorite ideas on Pinterest and be sure to follow our board Ski Mom Stuff for more winter food and drink ideas.