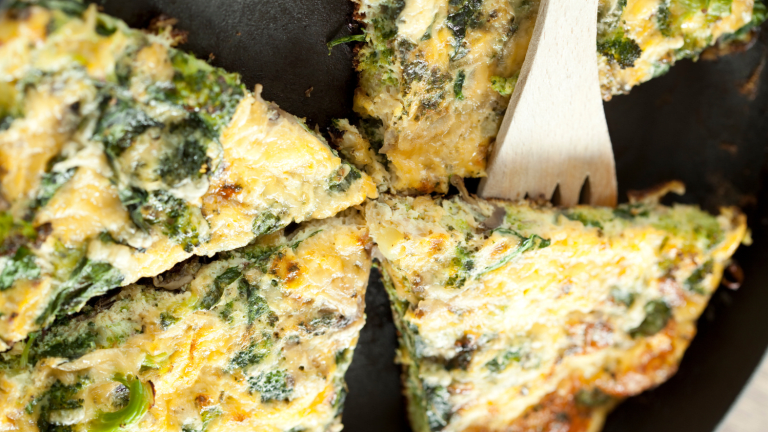 Kale and Ricotta Cheese Frittata
l love the combination of kale and ricotta cheese in this easy breakfast recipe.
Yum! This Kale and Ricotta Cheese Frittata is on our favorites list. To celebrate we had some friends over last weekend for a playdate/brunch. I always associate eggs with brunch, but I wanted to mix up the omelet or scramble concept and make a frittata.
Related: Five quick tips to make better avocado toast
We are finally almost settled into our new apartment after our move last month. As someone who likes to organize and put everything in its place, it has been a challenge to live out of boxes with two kids. My older daughter has has been asking to have her friends over so that they can see her new room, which was the perfect motivator this past month as we chipped away at the boxes and created a new space for our family. 
Since this was my very first frittata, I decided to locate a recipe on FoodandWine.com and instantly loved the combination of kale and ricotta cheese as well as how easy it sounded. Unfortunately, I couldn't locate broccoli rabe at my local grocery store, so I decided to use kale instead as well as some leeks that was a hit! My guests also loved the frittata, and I was really excited to try this again - maybe next time with spinach, broccoli, or squash. Enjoy and happy brunching!
Kale and Ricotta Cheese Frittata - Recipe from FoodandWine.com
Kale and Ricotta Cheese Frittata Ingredients:
3/4 pound kale, tough stems removed 
9 eggs
3/4 cup ricotta (about 1/3 pound)
3/4 teaspoon salt
1/2 teaspoon fresh-ground black pepper
2 tablespoons olive oil
1 clove garlic, minced
2 tablespoons grated Parmesan
Kale and Ricotta Cheese Frittata Directions:
Heat the oven to 325°. 
In a large pot of boiling, salted water, cook the kale until almost tender, about 3 minutes. 
Drain. Rinse the kale with cold water and drain thoroughly. 
Cut the kale into 2-inch lengths and set aside.
In a large bowl, beat the eggs with the ricotta and 1/4 teaspoon each of the salt and the pepper.
In a medium cast-iron or ovenproof nonstick frying pan, heat the oil over moderate heat. 
Add the garlic and cook, stirring, until fragrant, about 30 seconds. 
Add the blanched kale and the remaining 1/2 teaspoon salt and 1/4 teaspoon pepper and cook, stirring, for 2 minutes.
Evenly distribute the kale in the pan and then add the egg mixture. 
Cook the frittata, without stirring, until the edges start to set, about 2 minutes. 
Sprinkle the Parmesan over the top and bake until firm, about 25 minutes.
What are you cooking this week? For more breakfast inspiration check out these three easy ideas. 
MORE Breakfast Ideas FOR YOUR FAMILY FROM MOMTRENDS
PIN IT!
Use Pinterest to save your favorite recipes. Be sure to follow our Kid Food Pinterest board here.