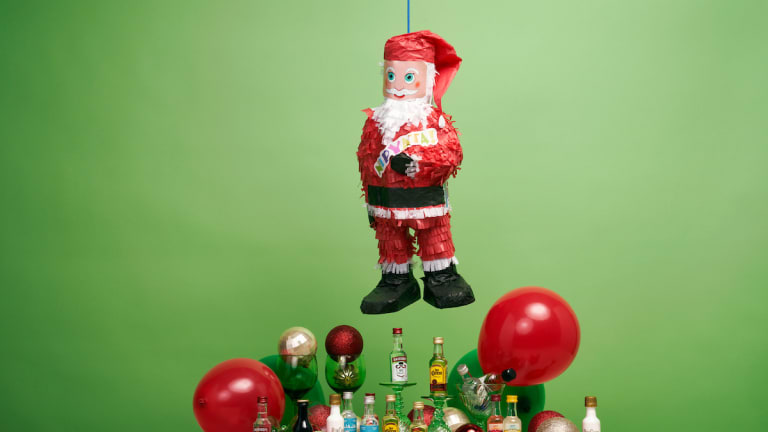 Inspired Holiday Gifts for Cocktail Lovers
Special cocktails and non-alcoholic drinks to enjoy at home this holiday and give as gifts.
This season, we've got to do what we can to make the holidays feel special. Creating a special drink is a perfect start to an evening in. Since more of us are celebrating at home, it's time to get creative. Here are some inspired holiday gifts for the cocktail lovers in your life. 
Related: Cranberry cocktail recipe for the holiday
Alcohol in a Piñata
I admit that Facebook ads sometimes do work. When Nipata showed up in my feed, I clicked and thought to myself "GENIUS."  It's a traditional piñata filled with mini alcohol bottles. What a way to kick off a party!
Get 15% off your first order with code BOOZYFUN15
They claim to be the #1 Adult Booze-filled Piñata. Sounds likely. I think the The Stay Classy Burrito (15 Bottles Pre-loaded) is a gift that will be a "hit" at your small family get togethers. Designed to withstand the power swings of inebriated adults and hold up to eight pounds of liquor. This piñata is designed for silliness. They use safe plastic bottles of liquor and candies, plus the hysterical NIPYATA!® Rules of the Game®.
Seedlip
Let's say you don't drink alcohol. Well, that's not a problem at the holidays -- Seedlip makes incredible distilled non-alcoholic spirits. I went to the Seedlip NYC launch party last year and thought the concept was clever. When put to the taste test I was convinced, non-alcoholic spirits are a trend that's here to stay.
Want to gift this? Try the Seedlip Sampler (3 Bottles) Grove 42, Spice 94, Garden 108 - 700 ML. For cocktail ideas try the Panoma. 
Panoma Ingredients
Seedlip Spice 94: 2 oz
Fresh Grapefruit: 1 oz
Fresh Lime: ½ oz
Simple Syrup*: ½ oz
Club Soda: 3 oz
Ice: Cubed
Panoma Directions
Add all the ingredients except the club soda into a cocktail shaker.
Shake & strain into a highball glass.
Top w/ soda & add fresh cubes of ice.
Garnish w/ a grapefruit peel.
*Simple Syrup: Warm equal parts water & sugar over medium heat. Stir until dissolved. Let cool.
Drizly
I know some of my mom friends deserve a special cocktail. I wish I could meet my BFFs in person right now for a happy hour support group. If, like me, you can't meet your besties in person, I suggest a Drizly shipment and a zoom date. Drizly is an alcohol e-commerce platform that facilitates the delivery of alcohol. Think of it as Door Dash for booze. 
For this gift, come up with a custom cocktail and then send the Drizly gift to friends. All you need to do next is pick a date for a virtual cocktail party. Why not try a seasonal G&T: Add cranberry to your classic G&T to create a seasonally aware cocktail that's also super refreshing. Head here to order.
New Drizly users can enter code HOLIDAY5, between 12/5 – 12/30 for $5 off or free delivery in valid states.
Holiday G&T Ingredients:
MORE FESTIVE COCKTAIL IDEAS FROM MOMTRENDS
PIN IT!
Use Pinterest to save your favorite ideas from Momtrends. Be sure to follow our Holiday fun parties recipes and crafts board here.
Momtrends was not paid for this post. There are affiliate links in this post.
For even more Momtrends, follow us on Facebook, Twitter, Pinterest and Instagram