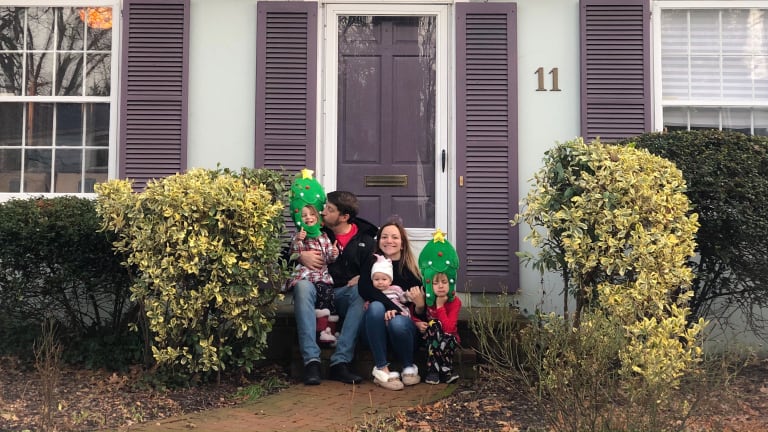 Increasing Home Security and Gaining Peace of Mind With HomeHawk
This Security Camera System Is a Must-Have
Random fact about the new house we moved into just one month ago: there are two front doors.
To clarify, there aren't two adjacent doors; there's one at the front and one on the side. But it's a corner house, and, while our street address distinguishes the actual front of the house, it can be disorienting for visitors. A few years ago, the previous owners did a big renovation, and since the driveway was already on the side of the property, they essentially decided to turn that into the "new" front of the house. It's slightly confusing (did you catch all that?) and far from fascinating info (still with me here?), but this basically means that when I tell people to "meet me at the door," or instruct an Amazon delivery person to "leave my package at the entrance, " it's a guessing game as to which side they're going to choose.
It's not a very large home, so I realize it's sort of ridiculous, but every time the doorbell rings, I freeze up--unsure where to to greet my guests. Our first week here was right before Christmas, and I answered the wrong door for singing carolers, the neighborhood welcoming committee, the water delivery guy, and even Santa himself. (Oh, and yes, I said carolers and welcoming committee and Santa Claus—I just love this little gem of a neighborhood we're in!)
We picked this quaint town because we like the school district and adore the close-knit community vibe; we were instantly charmed by this 1940s colonial (doesn't she look pretty with a dusting of snow?!) Still, despite our research and due diligence, I wanted to take all precautions to keep my family and our new home safe—dueling front (and faux front!) entrances aside, so getting the right security camera was a top priority right away. And I am happy to report that we are pleased with our new Panasonic HomeHawk System.
Why the Panasonic HomeHawk System Is a Must-Have for Home Owners
Easy Installation, Quality Product
Installing the Panasonic HomeHawk Front Door camera was easy and intuitive. It's wire free, ensuring perfect placement and effortless adjustment. You can pick a spot, change your mind, and move it without hassle or rewiring.
You can feel confident that your HomeHawk is built to last, too. These durable outdoor cameras are designed to be element-proof—so they can withstand blazing sunshine, relentless rain, and heavy snowfall.
Fun Fact: It's so easy to move; I actually popped out the camera and put it in our fenced-in yard so I could watch the kids play while I prepped lunch. How nifty is that?
Unparalleled Vision and Clarity
The HomeHawk Front Door camera features a super wide view—you can see everything—from the front door to the porch to the driveway and beyond. Exclusive color night vision technology offers crisp clarity—so you can see who's at your door no matter the time of day or night, which provides round-the-clock reassurance.
True Story: A neighborhood kid unexpectedly popped over to invite my son to play earlier this week. I saw him on the camera, and was able to give my big guy the heads up, "Grant you might want to put pants on—your school friend is here." And just like that, the HomeHawk spared my kiddo some unnecessary embarrassment.
Feel Secure at Home
You don't have to come to the door to speak to a visitor—be it a delivery person, a sales agent, or neighbor. There are powerful microphones and speakers in the monitoring cameras that allow you to communicate with anyone at the front door, in your yard or at other strategic locations outside your home. You can even control your monitors with an enabled Alexa device or Google Assistant.
#MomLife Reality: Have you ever been nap trapped? If you're a mom, you know exactly what I'm talking about. Yesterday, my 10 month old was snoozing on my chest when the water delivery guy came to drop off our delivery. He rang the bell to ask if I had any bottles to return, and, thankfully, I was able to have this verbal exchange via two-way communication—without moving or disturbing the baby.
Monitor Your Home on the Go
Whether you're out running errands or enjoying a family vacation, you can access your cameras from anywhere via app; and HomeHawk will record everything to an SD card so you can replay footage, as desired. You can also activate alerts to let you know when there's activity outside your door—so you can find out as soon as that important package arrives. (Better still, you can even communicate with a delivery person using the two-way audio feature.)
Planning Ahead:
We are going away next month on a family road trip, and I feel so much better about leaving our home thanks to the HomeHawk system. We can check in on the house and monitor and all the comings and goings outside our door.
Having the Panasonic HomeHawk system makes me feel more secure; it eases my anxiety and gives me some sound peace of mind as a mom and a homeowner. Now I just need to get a second camera for my second front door!
Buy the HomeHawk on Amazon. Follow HomeHawk on Instagram and Facebook.