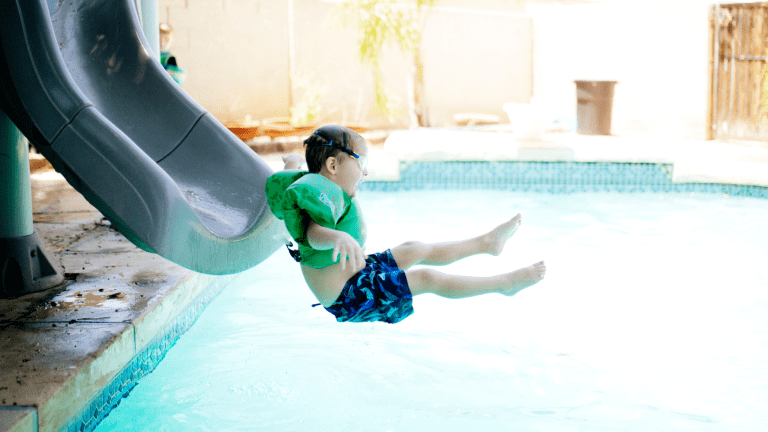 Important Pool Safety Tips
Here are four tips to help create a safer water environment.
Summer is here. Time to get wet and wild, splishing and splashing by the pool. Of course as fun as a casual swim may be for the kiddos, it's incredibly important to put their safety first. And that starts by taking a few key precautions. Here are four tips to help create a safer water environment--so that everyone can keep cool, have fun and remain safe and sound.
Related: National Learn to Swim Day
Four Important Pool Safety Tips
Check Your Fencing. Many areas require fencing around a pool, to keep children safe. Beyond it being a requirement, however, installing a good quality fence around the perimeter of your pool makes good sense. An accidental drowning is not the summer memory anyone ever wants to carry with them for the rest of their lives. A gate or even a perimeter alarm will help warn you if someone is entering the pool area without your knowledge. After all, a fence can be climbed but an alarm is hard to avoid!
Check your pool cover regularly. Make sure it is in good condition, without rips or tears and make sure that you invest in a safety pool cover, rather than just a standard winter cover. Another great option for safety is to install a pool safety net. The net must have squares that are small enough that a child couldn't slip through them but large enough that they couldn't stand or walk on the net. You should also check railings and safety drain covers to make sure they're all solid and in working order, throughout the season.
Know the signs of secondary drowning. If a child inhaled a lot of water in the pool, some of it could have gotten into their lungs and they can experience secondary drowning, even 24 hours after the incident. Signs include: fatigue, difficulty breathing, unable to take a deep breath, coughing and chest pain. If your child took in a lot of water, keep a close eye on them!
Test the waters: Did you know: 1 in 3 swimming-related disease outbreaks occur at hotels. Swim Smart test strips, can help keep your family safe from Recreational Water Illnesses. The test kits are a quick, easy, and travel-friendly way to test the pH and Chlorine levels at the hotel, gym, waterpark, and other public swimming facilities. Swim Smart Test is a fast and easy and affordable testing solution to keep your family safe and avoid potential illness. It's one dip + 15 seconds! Order yours here: https://amzn.to/2KRMyf6

More Swimming Trends
PIN IT!
Use Pinterest to save your summer fun and safety ideas. Be sure to follow our Swim-Team Moms board here.
This is not a sponsored post.