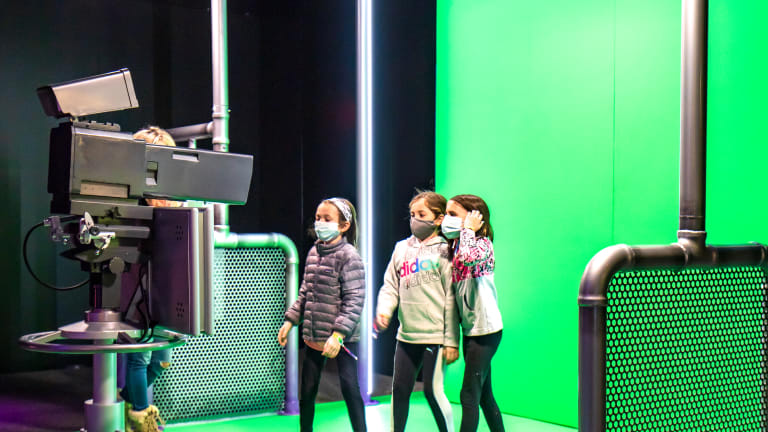 How Turn Your Home into a Creativity Hub with Epson
We're giving away some awesome Epson Prize Packages to help spark your imagination to celebrate the new Crayola IDEAworks exhibit at the Franklin Institute.
When it comes to parenting, creativity is key. There have been so many moments in the past 12 months when sanity has been saved by getting my girls offline and into a craft, book or art project. To inspire them, I make sure my home is well stocked with the tools of the trade -- like art supplies, reading materials and a high quality printer. I want to help you learn how to turn your home into a creativity hub with Epson. And offer you the chance to win some pretty cool prize bundles too. 
How Color Affects Imagination
Color is at the forefront of the imagination – it has the ability to breathe life into drawings and stories, inspire creativity, encourage future dreams, as well as enhance learning both inside and outside the traditional classroom. To underscore its passion for innovation and color, Epson is sponsoring Crayola IDEAworks: The Creativity Exhibition at The Franklin Institute in Philadelphia.
For over a century, Crayola has sparked imagination and ignited creativity all over the world. Best known for their iconic box of crayons, the spectrum of Crayola products is rooted in innovation and invention. To support the Crayola IDEAworks exhibition, Epson printers and projectors are providing families with an immersive experience in the exhibit. IDEAworks is all about creativity and encourages kids and families to express themselves through color, whether that be through expressive art or everyday problem solving.  
Creativity Matters 
The limited run at The Franklin Institute opened in February and closes in July of 2021. Now is the time to plan your visit and start dreaming. Epson wants to remind you that creativity is innately inside all of us — we just need to ignite it!
Open your MIND. make your MARK. color your WORLD.
Now, when it comes to the tools, let's talk about how Epson fits in. We rely on our EcoTank to help with printing photos for collages, coloring pages and other art projects. We love this printer because we are never stuck without ink. It prints bold, vibrant colors and most important is super reliable and earth friendly. 
Win It!
We've got just the thing to spark your creativity! We're giving away some awesome Epson Prize Packages to help ignite your imagination. Including the EcoTank® ET-4760 - this innovative cartridge-free printer uses high-capacity, easily refillable ink tanks. So you'll worry less about running out of ink, and you'll save up to 90 percent on replacement ink with low-cost bottles.
Enhance your home theater with state-of-the-art projection with the Epson Home Cinema 880. The Home Cinema 880 delivers an astounding 1080p picture up to 320" on virtually any blank wall or screen. With a built-in speaker and easy setup, you get immersive HD entertainment right out of the box. Please note, emails from entry will be shared with Epson.
Grand Prize Winner (Total = 1)
4 pack of Tickets to Crayola IDEAworks 
Epson EcoTank ET-4760 ($500 value)
Epson Home Cinema 880 ($500 value)
EcoTank Paper & Media Kit
Crayola Product Prize Pack ($100 value)
Runner Up Winners (Total = 3)
Epson EcoTank ET-4760
EcoTank Paper & Media Kit
Crayola Product Prize Pack
Plan Your Visit to Crayola IDEAworks at the Franklin Institute
Start your Crayola IDEAworks visit in the Introductory Theater that uses Epson Pro projectors with 4K Enhancement Technology. From there guests can "Travel to Mars" and tackle the challenges of living an active lifestyle in space. In the Space Sportsplex, guests design a ball to try to hit a target in Mars' low gravity atmosphere—things are not as easy as they are on Earth! Traveling to the depths of the ocean, guests can problem solve like marine biologists and use their creativity to play sounds to regenerate a coral reef ecosystem through a reactive projection.
The Grand Finale will also include multiple in touchscreen kiosks that incorporate Epson ColorWorks® C3500 label printers. Guests tap RFID wristbands one last time to reveal their creative style, showing individual strengths through a character profile. Advance ticket purchase is highly recommended for all guests, including members.
Designed for ages 5+ (but all ages are welcome)
Hours: Wed-Fri 10AM-5PM | Sat & Sun 10AM-6PM
Adult $35 Child (3-11) $31
The Franklin Institute is located at 222 North 20th Street Philadelphia, PA 19103
For more information, and to purchase tickets for the world premiere of Crayola IDEAworks: The Creativity Exhibition, visit www.fi.edu/crayola-ideaworks.
This is a sponsored post.