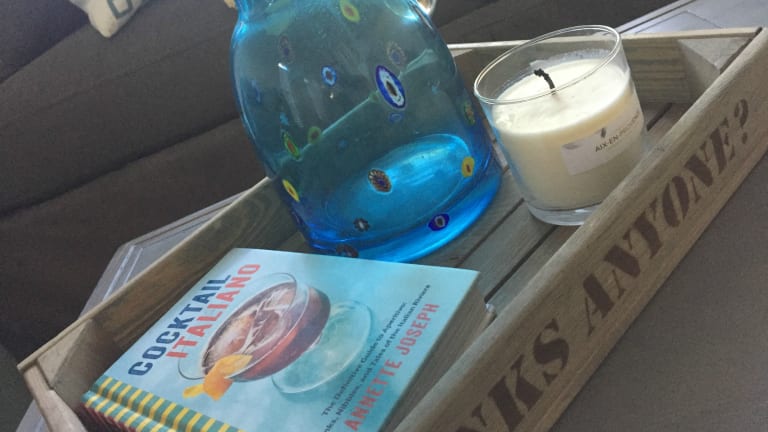 How to Style a Coffee Table Tray
Short on time? We're going to show you how to style a coffee table tray quickly!
Let's talk about how to style a coffee table tray for a moment...Shall we? Are you one of those people that love the look of a coffee table tray, but you're not quite sure what to put on one? I used to be. You see, up until we moved into our new home a few months ago, I had never used a coffee table tray. Sure, I had trays. And they were fun to use when I had company to serve cocktails and whatnot, but I had never actually put one on a coffee table. And that's because I didn't have a coffee table. Bwah! Well, I did for a bit...and then my son came along. As soon as he could walk he was bumping into said coffee table. So, being the cautious first time mama that I was, I got rid of it.
But when we moved into the new house, I figured it was time to give coffee tables a chance again. And I've had so much time switching out the goodies that decorate it with. At first, I wasn't sure how to style a coffee table tray. It can be tricky to get the grouping right. But I found that if I stick to a couple rules, I can quickly style my coffee table tray for any occasion. 
1. Use varying heights: As is the rule when you're decorating a mantle, a tablescape etc., you're not going to want to use pieces in your coffee table tray that are all the same height. The different sizes add visual interest! I like to start with a pretty book like this Cocktail Italiano book and build from there. 
2. Add a candle: You can never go wrong by adding a little ambiance. And even when it's not lit, a chic candle looks great in your tray. Invest in a nice one and be particular about when you light it and it will last a long time. Just make sure you tell your family the rule. My hubs tends to light my expensive candles without a second thought. Sigh.
3. Insert some color: If you decorate with the neutrals that are popular today, bring in some color by on your tray. If I didn't have fur babies who would get into them, I would add fresh flowers to my colorful vase. At least he's cute. Haha!
See? I told you learning how to style a coffee table tray was easy peasy! And now that you've got that under your belt, why not check out the private tour we took of the HGTV Smart Home. You're surely get loads of decorating inspo from it! 
We were not paid for this post. We did receive samples and it does contain affiliate links.