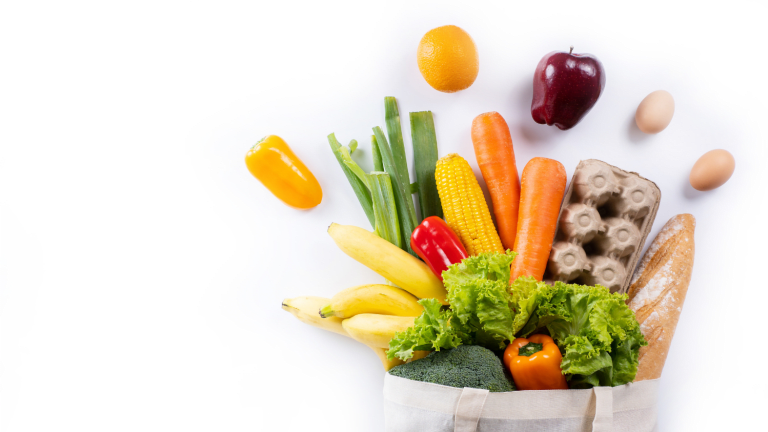 How to Avoid Overspending on Groceries
Check out these four easy shopping tips that won't consume your time or your budget.
Unless you enjoy the luxury of a private chef or your budget allows you to frequently dine out, grocery shopping is probably on your list of things to do each week. And if you're anything like me, you want to avoid overspending on the items you buy without spending hours clipping coupons (because, honestly, who's got time for that!?). Check out these tips that won't consume your time or your budget. 
Four Tips to Avoid Overspending on Groceries
Take inventory: Before you hit the market, check your fridge, pantry and cupboards for the stuff you already have because there's no need to waste money on more of what you've got (at least during this grocery shopping trip).
Plan your menu: Once you know what you have, get creative! What can you do with your can of tuna and half-box of pasta? I'm thinking tuna noodle casserole (one meal for the week down). Think about what else you'd like to prepare that week and create a list of what you'll need. See if you can overlap ingredients for certain dishes. For example, maybe Tuesday you'll roast a whole chicken (which is super easy!), and then Wednesday you'll use the leftover chicken for tacos. Weekly menu planning saves you money because you're utilizing what you already have and, therefore, spending less at the store. Plus, you're going into the market with a plan, so you won't waste money on spontaneous purchases.
Use smartphone apps: Technology has taken over just about everything --even groceries! So why not embrace it? Grocery apps will not only save you money, but they'll keep you organized, too. Grocery IQ, for example, has a barcode scanner, list sharing and integrated coupons, helping you to get the best prices on your favorite items. Other great apps include Grocery Gadget, which organizes your shopping list, and Shopper, which also offers coupons and weekly ads.
Shop what's in season: Food in season is typically priced to sell, making it cheaper than its out-of-season counterparts. Here are some items to look for based on season:
Winter: cabbage, kale, potatoes, citrus fruits, broccoli, and Brussels sprouts
Spring: asparagus, artichokes, cherries, fava beans, strawberries
Summer: avocados, bell peppers, eggplant, mangos, melons, rhubarb, ramps
Fall: apples, cranberries, figs, leeks, mushrooms, pears, pomegranates, pumpkins, squash
MORE MONEY SMART FEATURES FROM MOMTRENDS
PIN IT!
Use Pinterest to save tips for your financial literacy. Be sure to follow our Money tips for mom board here.
All the tips were provides by Sarah Kaufman, the editor-in-chief of The Manilla Folder.