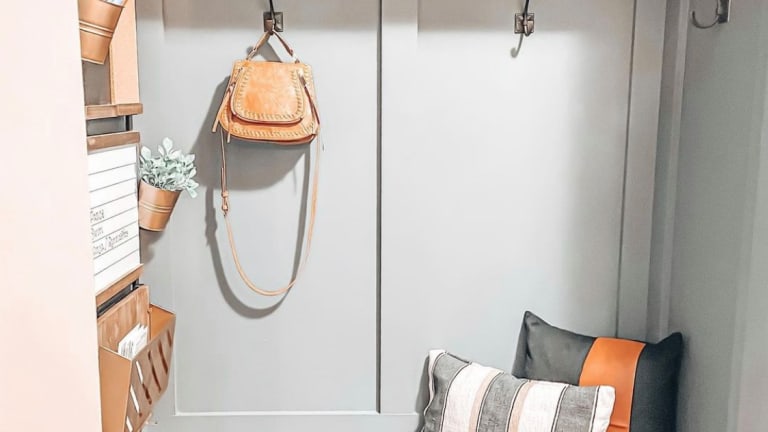 How to Organize Your Mudroom Or Entrance Way
Five products to help you save space in your entryway and keep your home organized.
With the change of season, comes the influx of coats and scarves, rain wellies and umbrellas, team-sports gear, sweaters and boots. It's time to make sure that there is a designated spot for all of these things in your mudroom or hall closet. Or else, you know what happens? You'll soon find a pile of 'stuff' right behind the door, spilling into your living space. We've got expert advice on how to organize your mudroom or entrance way for maximum family efficiency.
Related: Get organized with a home command center
Spring Cleaning the Mudroom
Mess begets more mess, so that's why it's important to get ahead of the clutter--you know, before it takes over the whole house. Think it's too late to instill a system of organization? No time the present! We're sharing some super easy-to-instill tips to conquer the STUFF at clear out your home's entrance. Today is the day you take back your mudroom.
Where to Start with Your Entryway
The first step is to get inspiration. I'm sharing some great mudroom makeovers to check out and get your creative juices flowing. If you enter "mudroom" on Pinterest, you're sure to get inspired. 
After you've been inspired, Marie Kondo that space and do a major purge of stuff and gear before you start ordering products. 
Five Essentials to organize your mudroom
MORE DESIGN TIPS FROM MOMTRENDS
PIN IT!
Need more ideas on what to do with the kids? Be sure to follow our Organization board on Pinterest here.
This is not a sponsored post. Thank you to Marty Basher, home organization expert for ModularClosets.com, for these top tips.