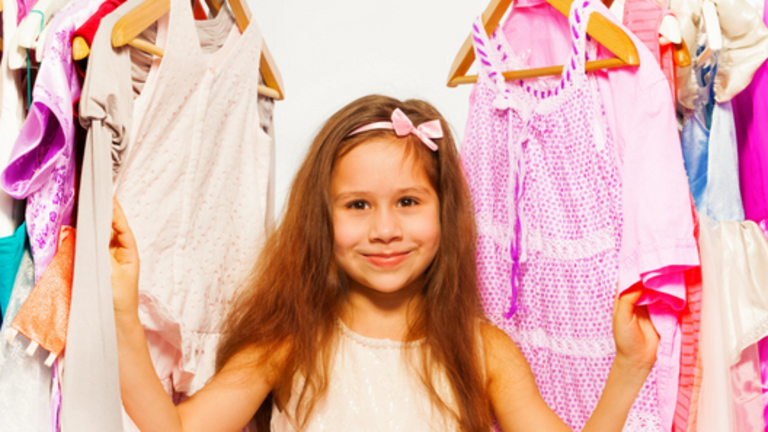 How to Organize Your Kid's Closet
Get the Back-to-School Wardrobe Ready
Go back to school knowing your child's closet is filled with clothes that fit and a plan to keep organized all year long. Set the kids, and yourself, up for success by getting the closet clutter under control.
Organizing a kid's room can be particularly challenging, because children grow and evolve at a fast rate, and they need a closet system that can keep up with all the changes. Functional custom closets are a solution that not only helps relieve a parent's stress but can also help a child learn useful organization skills at an early age. What's more, children's closets can also be whimsical and fun!
Getting Started: Plan Storage for Developing Needs
The goal is to keep your child's room clutter-free. When your child is an infant, you will probably want a space where diaper supplies can be accessible and kept out of sight. As your child grows, this space can then be used for toys, and later for books and elementary school supplies. A few more years down the road, this same space may be perfect for your teenager's sports equipment or technology devices.
Infant and toddler closets can easily become the stash and store location that can easily be hidden behind a door when guests come to visit. With thoughtful planning before baby arrives, your closet can be just the place to hold everything your little one needs with room to accommodate a future teenager. 
#1 Use Adjustable Hanging Rods.
If you're hanging baby clothes, it often makes sense to have three rows of hanging rods stacked vertically. Tiny baby clothes don't require much vertical length, but you frequently do need to keep many outfits on hand, as your child will get them messy and grow out of them so quickly.
As your child grows, you can remove the middle rod and keep a two-row system. For young children, you may want to keep daily-use clothes they can access themselves on the low hanging rod and reserve the higher rod for less-frequently used clothing or any items best kept out of reach. Even once your children become teenagers, they can still use the two-row hanging rod system for shorter clothes items like shirts and shorts.
#2 Incoporate Closed Drawers.
One key to keeping a room tidy is making sure there is plenty of storage space for storing items away and out of sight. Ideally, there should be enough closed drawers that each has a designated purpose that encourages organization. For example, socks and underwear can be kept in one drawer separated from another drawer with small toys. Some closets can accommodate a dresser, other may need a system that includes drawers. However you design your closets, showing your children early on that everything has its place helps them to develop organizational skills that are useful throughout life.
#3 Add Color!
Many kid's closets feature bright colors that inspire and help with grouping and organization. You can fill open shelves with plastic baskets in a rainbow of colors. Even young toddlers can start to grasp the difference between putting an object in the red basket versus putting an object in the blue. Or, for early readers, try adding decorative labels that you and child create together to assist with word recognition or planning outfits for the week.
#4 Reconsider Your Organizational Plan Every Year
Back to school is the perfect time to revamp the closet plan while you weed out the old and outgrown in preparation for the new year's changes and challenges. Make sure the children themselves are involved in this process, at whatever level of responsibility makes the most sense for their current age and development. This helps makes it more likely they will stick with the organization plan. Your child's age and stage plays a big part. Here are a few age specific closet tips:
Marty Basher is the home organization expert at Modular Closets, the closet units you can mix & match to design your very own custom closet. Homeowners everywhere are empowered to achieve the true custom closet look- for nearly 40% less than standard custom closets. Discover Modular Closets online at https://www.modularclosets.com.