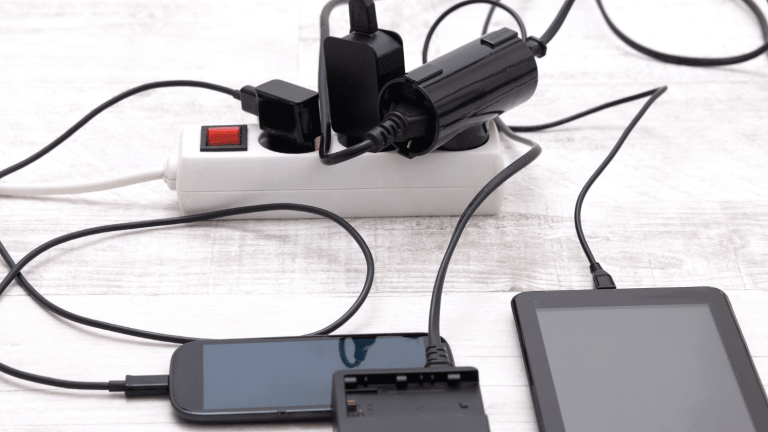 How to Organize Your Cords and Chargers
Tired of jumbles and tangles? We feel your pain and put together resources to help organize your cords and chargers.
How many of you added a few new tech devices to your family's collection this year? From the latest phones and tablets to music players, computers and video games, it might seem like your charging cords decided to get together and have quintuplets when you weren't looking. We feel your pain and put together resources to help organize your cords and chargers.
Related: How to organize your mudroom or entrance way
How to Organize Your Cords and Chargers
This clutter is not only irritating (who took my charger?) the clutter can cause undue stress. So this January, make a "cord-ination" plan to clean up your family's cord clutter. Here's how:
Invest in multi-tasking chargers
There's no excuse for having six devices take up six outlets. Instead, pick up one of these multitasking chargers. 
Choose the Multi-Port USB charging hub that can charge up to five devices at once in a cute colorful design. 
ChargeHub Round that comes in a variety of colors and include seven ports for even more charging capability. 
The goFanco Desktop Charging Station has seven ports PLUS an equal number of silicone-padded slots to keep your phones and tablets nicely stacked and organized while they charge.
Label so you don't lose. 
To prevent kids from taking your cord and keep cords organized on that weekend away at Grandma's, label your cords to keep them easy to keep track of. 
A simple label maker like this DYMO can make easy work of this (and you'll find a zillion uses for it all over your house).
Or you can get more creative with these colorful cord stickers.
Snap-on customizable cord labels from Dotz.
Wrap 'em up
If you can't get rid of the number of cords you have, at least wrap them up so there aren't miles of miniature snakes coming out of every outlet. 
A simple rubber band often does the trick or you can pick up handy cord wraps.
Or a sleek case like this Cord Buddy to keep cords from slipping off the back of your desk or nightstand.
Hide them away 
If one of your goals is to spend less time checking screens, a better option might be to hide your cords and chargables away by creating your own secret charging station in a drawer. That way, not only are your cords out of sight, but so are you devices when you're trying to focus on more things things. I love these creative DIY charging drawer ideas on Pinterest. Out of sight, out of mind.
Go cordless
A handful of brands are now offering cordless charging options like the Samsung Wireless Charging Pad. The catch is that while you don't need to plug your phone in, you do still need to plug the charger itself in. And the pads can often only charge one device at a time. Before you jump on this cordless bandwagon, be sure to double check that the charger works with your phone. Many only work with Android phones and for some, you'll need to purchase a special replacement back or a case that will allow you to wirelessly charge. I especially like the low-profile design and multi-item charging system for apple products.
MORE DESIGN TIPS FROM MOMTRENDS
PIN IT!
Need more ideas on what to do with the kids? Be sure to follow our Organization board on Pinterest here.
Momtrends was not paid for this post. This post may contain affiliate links. By clicking and shopping, you help support Momtrends and allow us to keep reporting on trends.