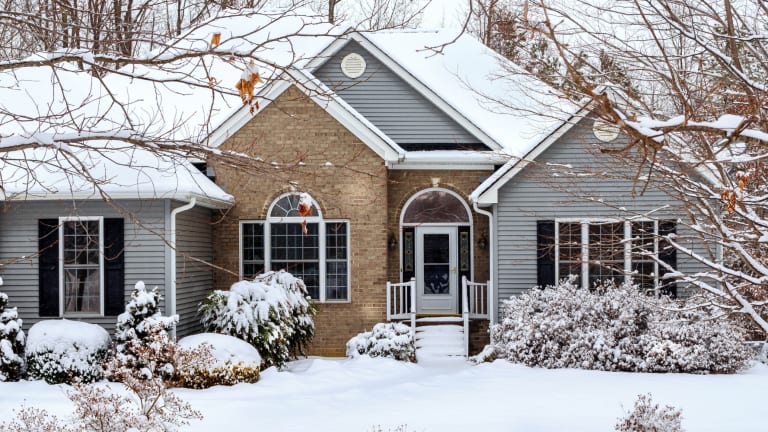 Publish date:
How to Minimize the Risks of Snow Shoveling
... and Maximize the Benefits
... and Maximize the Benefits
My husband arrived home from work this past Tuesday positively gleeful at the sight of snow on our lawn and in our driveway. Indeed, I think he was more excited than the kids! Of course, snow-ball fight and sledding weren't the activities driving his white-out weather enthusiasm. No, he couldn't wait to test out his newest toy--the one he ordered himself on Black Friday--his snow blower.
Of course, last winter, lacking fancy gear, was a whole other story. The sight of a wintry landscape outside the window quickly amounted to a pain in the neck... and back, shoulder, wrist, and knee. Ouch!
Orthopaedic surgeon Kevin D. Plancher, MD, MPH, knows a thing or two about the aches aand pains (and inevitable injuries) resulting from shoveling. In fact, he equates snow the activity to lifting weights while trying to walk forward.
And, even more serious, like any strenuous exercise, shoveling – or even pushing a heavy snowblower -- can prove downright dangerous for the most critical muscle of all: the heart. More commonly, though, shoveling injuries involve the body's soft tissues: sprains, strains and pulls of muscles, tendons and ligaments. 
Experts say an average shovelful of snow can weigh 20 pounds or more, depending on shovel load and the snow's water content. "Snow shoveling is an intense, athletic activity that requires preparation, precaution, proper equipment, right technique – and common sense," Dr. Plancher advises. "If done properly, it truly can be a beneficial exercise." Shoveling helps burn several hundred calories per hour.
To maximize these benefits while minimizing risks, Dr. Plancher offers five important snow-shoveling tips:

Sleep hack to give moms a more restful night
Looking for a life hack to get better sleep? Here's my go-to sleep hack to give moms a more restful night: get better pillows. Thanks to perimenopause, my sleep has been interrupted and I was finding it hard to get back to sleep after my 3am wake-up. I lowered the temperature in ...read more
Our Best Brow Tips
If you've been on TikTok at all in the past couple of years, you know that full brows are where it's at. Sure, the 90s are back, but thankfully, the kids left that decade's overplucked brows trend good and buried. Now even if you don't have the naturally full brows you once did, ...read more
5 Pretty Ways To Organize Your Jewelry
I admit - I'm guilt. Despite my best efforts, my "jewelry drawer" has become a tangled mess of necklaces, bracelets and earrings. This cluttered collection not only makes it hard to see what I have, but difficult to untangle the pieces I do want to wear! This summer, I'm ...read more
Proper Preparation
Warm up muscles before going outside. Engage in stretching and movement exercises; perhaps, march in place. Do not begin shoveling right after eating because needed energy will be diverted to digestion. Dress warmly.
Precaution
Don't rush; pace yourself. Take frequent breaks and drink plenty of water to remain hydrated.
Right Equipment
As with any sport or exercise, having the right tools and equipment reduces the chance for injury. Use a snow shovel with a length and handle appropriate to your height and grip size. Avoid old-fashioned steel shovels that only get heavier when filled with snow.
Correct Technique
Practice appropriate lifting technique. Let arms and legs do the work – not the back and spine. Keep the back straight, bend the knees and maintain a wide stance, with feet facing the snow that is being lifted. Don't twist at the waist or lift the shovel above the shoulder to throw snow and don't overload the shovel. Less is better. Whenever possible, push snow away rather than lifting it.
Common Sense
If the back, shoulder or other joints and muscles begin feeling stressed or become sensitive, stop shoveling!
Take Note of Any Aches and Pains
For those who do a bit too much for a bit too long, Dr. Plancher suggests placing an ice pack on the strained muscle or joint soon after injury to limit swelling and inflammation and then, if possible, wrapping it in a compression bandage. Elevate the affected area to limit blood flow to it, and rest, rest, rest, he adds. Should breathing become difficult or chest pain develop during shoveling, get to a hospital emergency department – immediately, Dr. Plancher says. Most important is to enjoy the beautiful snowfall and avoid injury.
This is not a sponsored post. Tips and copy/quotes courtesy of Kevin D. Plancher, MD, MPH at Plancher Orthopaedics & Sports Medicine.