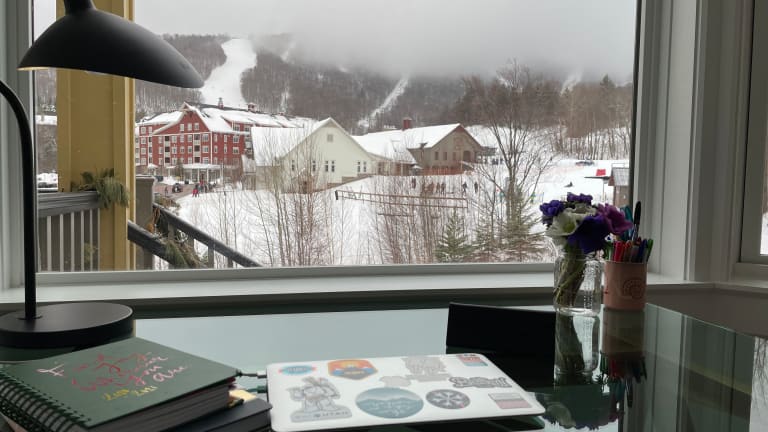 How to Look Better on Your Next Zoom Call
Simple tips help you work from home more efficiently and look like a pro on your next video conference call.
It appears many of us are  going to be working from home for some time. And in fact, many industries have signaled that they may allow more and more flexible opportunities for work. Since video calls don't seem to be a trend that is ending, I finally invested in a few items to upgrade my work from home situation. Here's how to look better on your next Zoom call with just two simple purchases.
Related: Three must have home organization products
How to Look Better on Your Next Zoom Call
I'm not talking about diets or makeup, I'm talking super basic concepts that will help flatter you no matter what you are wearing. You don't need a new wardrobe and a home makeover, trust me.
Lighting Matters
The first thing to consider is where to place your laptop or camera. In general you want the light to be behind the camera on your device. The light should be illuminating your face. 
If you don't have a natural light source, like a window, you can improvise with a cool device that attaches to your laptop. The Lume Cube Video Conference Lighting Kit  is perfect for remote working. It's small and powerful and easy to use. 
The device was charged out of the box and I simply attached the suction fixture onto my macbook air. I did learn quickly, that I need to compress the base of the suction cup and press it firmly. My first few attempts failed and the light fell off the back of my laptop. The included suction cup computer mount also works with desktop computers or any flat surface. You can buy a separate tripod for the light too.
Once I got the compression feature down, I was in business and had awesome zoom call lighting at night. I use it for personal and professional calls and find it extremely handy. The Lume Cube features:
Brightness control: 1% - 100% brightness 
Adjustable color: Adjust from a warm (orange) light to a cool (white) light to get your perfect skin tones and match your environment
Soft Light: The built-in frosted lens and additional white diffuser give you the flexibility to soften your light and get that professional glow
Long Life: The built-in extended battery provides hours of illumination. For extended broadcasting, you can plug the light in to your computers USB port and run indefinitely off of external power ($69.95)
Get the Lume Cube Kit here on Amazon.
Watch Your Angles
No one looks good with a double chin. That's why an adjustable laptop stand is a must. This laptop stand is compatible with MacBook Pro/Air, Surface Laptop, Dell XPS, HP, Samsung and other 11-17.3" laptops. ($27.99).
Set this up on your desk and raise the height when you are on a video conference call. The Z-type design is good for adjusting to an ideal height for typing, viewing and sitting.  Ideally, you want the camera to be straight on or slightly above you, pointing downward. This is the most flattering angle. If the camera is angled up at you, you'll show off your nose hair and a double chin.
It's also good for you! This laptop stand can be adjusted to the right angle to reduce your eye fatigue and reduce your back and neck pain and improves your blood circulation. Did you know: Working upright also help keep your energy level steady and boost productivity.
Get the Laptop Stand on Amazon here.
One More Thing Before You Zoom
Finally, you need a good connection to look good. Blurry images don't help anyone. I can't do much to help you with your internet speeds, that's mostly up to your local provider, but you can check your speed here.
Go to Google.com
Search for internet speed test
Tap or click Run Speed Test.
Google partners with Measurement Lab (M-Lab) to run this test.
I hope these simple tips help you work from home more efficiently. I wish I could send you all childcare help too!
For more Work from Home Life Hacks
PIN IT!
Need more ideas on how to make life at home better? Be sure to follow our Organization board on Pinterest here.
Momtrends was not paid for this post.