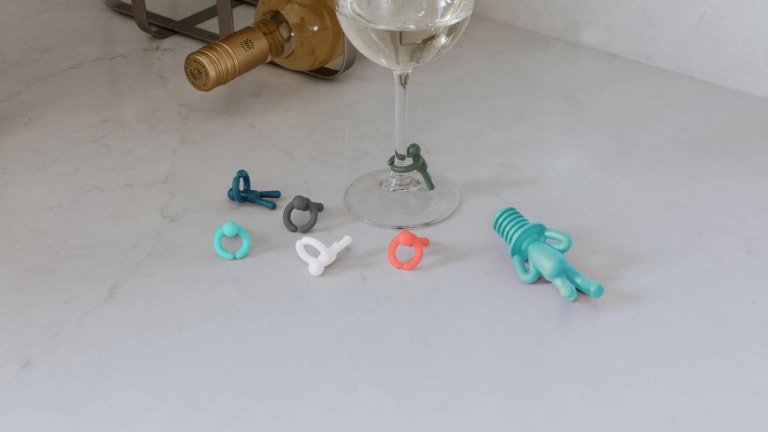 How to Keep Track of Your Wine Glass with Glass Charms
Colorful drinking charms helps keep track of glassware at dinner parties.
Cleaning tons of extra glasses after a party is a drag. We've come up with an idea on how to track of your wine glass with glass charms. The set of six colorful drinking charms (helps keep track of glassware at dinner parties) and bottle topper make a super hostess gift.
Related: How to make wine slushies
Keep Track of Your Glass with Umbra Glass Charms
We've been doing lots of casual entertaining this summer. My system of keeping track of my wine glass often involves trying to spot my lip gloss on the rim of a glass. Not the most scientific no? Now I slip on one of these little dudes and don't have to worry about sipping someone else's sangria. 
Designed by Alan Wisniewski for UMBRA. Each set includes 1 avocado topper and 6 assorted wine charms. I toss mine right in the dishwasher to clean them. Easy peasy.
And for all those invites that pop up over the Labor Day weekend, we think this set makes a sweet gifty. Buy on Amazon for $8.80 and keep a few stashed as hostess gifts.
MORE WINE LOVERS FUN FOR MOMS
PIN IT!
Use Pinterest to save your favorite cocktail ideas. Be sure to follow our Wine Time board here.
Momtrends was not paid for this post. We did get a sample--and we promise not to steal your sangria.