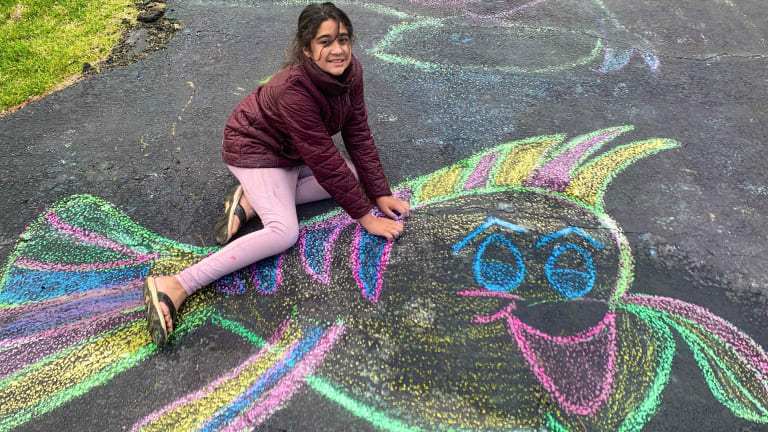 How to Give Back and Get Creative with Chalk Art
Support your community with art. Sidewalk chalk projects get kids outside and tap into creative energy that can boost spirits.
In this crazy back to school season, most moms I know are doing what they can to stay positive and keep things moving forward. We're back to school shopping and we're setting up our homework stations all within a VERY tense and stressful framework of not knowing how this school year will pan out. We could all use more good news. Here's some inspiration on how to give back and get creative with chalk art.
Related: Why we all need to color right now
The Power of Art
With all the bad news and stress out there, I love finding sources of joy. This story comes to you from Vienna, Virginia, home to my older brother and his family. Like the rest of us, he's been taking more walks in his neighborhood and he noticed these amazing chalk creations by his neighbor. Spotting the pop-up art installations brought him a good bit of joy.
On one of his walks, he decide to chat with the mother/daughter duo behind the sidewalk gallery and he told them about Momtrends. One thing led to another, and I was able to get a bunch of photos of the creations and score an interview with the artists, Prakriti Sharma and her daughter, Anoushka (11).
What inspired the creations? 
Prakriti's family moved to Vienna last year. Anoushka was very engaged and social in her last neighborhood and was involved in everything from theater to sports. As expected, the move was disruptive. And then, just as Anoushka was starting to make friends in her 5th grade class and start up some new activities, wham! Covid arrived. 
Like most moms, Prakriti was worried about her child's mental and physical health. "She just wouldn't come out of the house and that broke my heart. This started as an exercise to drag her out even if it was for a few minutes," says Prakriti.
Getting Started
The sidewalk projects were pretty grand in scope and did the work of getting Anoushka outside and being creative. When it came to inspiration, Prakriti says that they usually pick a theme before they start a project. It could be a holiday, a mood, dance, etc. From there, the mom starts the design and then Anoushka helps her color. I asked about favorite creations, and Prakriti says the dancing couple (below) and the 4th July display (above).
When it comes to advice for other families who want to create chalk art, Prakriti says, "Just give it a go. It's cathartic and satisfying!" The mom reports another upside to the chalk art, "It also gives you a chance to socialize, even if it's saying 'hello' to neighbors who stop by to appreciate your art. I've made friends with some of the nicest people in this neighborhood!" 
Paying it Forward with Art
I wanted to know if the pair got a little sad when the rain came and "cleans the slate." Prakriti says, "Not really. Rain gives us a chance to create something new every time!"
Wondering what's next? I was too. Prakriti definitely has more in the works. She's planning to make some back to school art with her daughter. Prakriti says, "We make huge chalk art pictures, so we do run out of supplies quickly."  Momtrends is on the case: I'm currently trying to find them a chalk sponsor.
The Chalk Inspiration
When I asked Prakriti what inspires her, she says, "I've had people tell us they specifically come by this way just to see what we may have drawn." Knowing she's doing her part to spread love is enough. 
Here at Momtrends we hope that Anoushka and the rest of us are able to return to school safely. Until then, why not take a page out of their book and get creative. Anoushka starts 6th grade this fall and it would be awesome if we can all honor her spirit with chalk art of our own. Start with a theme or a feeling, grab some chalk, and go! 
Thanks to Prakriti, Anoushka all the chalk artists out there who are bringing some joy and light to neighborhoods across the world. 
Chalk Artist Resources
Tip: Don't worry about fancy supplies. This team mostly uses chalk (check out our resources below) but sometimes Anoushka creates custom colors with with a clay art kit. Start with what you have and go from there.
Win it!
We're teaming up with Twee Chalk to give away a set of Mason's Planets Sidewalk Chalk for Autism Research. What could be better for drawing and learning than a full nine piece solar system! Mars, Venus, Earth, Mercury, Neptune and Pluto have two layers of color - an outer core and an inner core. Saturn, Jupiter, Uranus have three layers - an inner core, outer core and crust. $40 Value.
$2 from every sale of Mason's Planets will go to the Children's Hospital of Philadelphia to support Autism research. 
More Positive Energy from Momtrends
PIN IT!
Use Pinterest to save your favorite ideas from Momtrends. Be sure to follow our Crafts and DIY board here.
Momtrends was not compensated for this post.