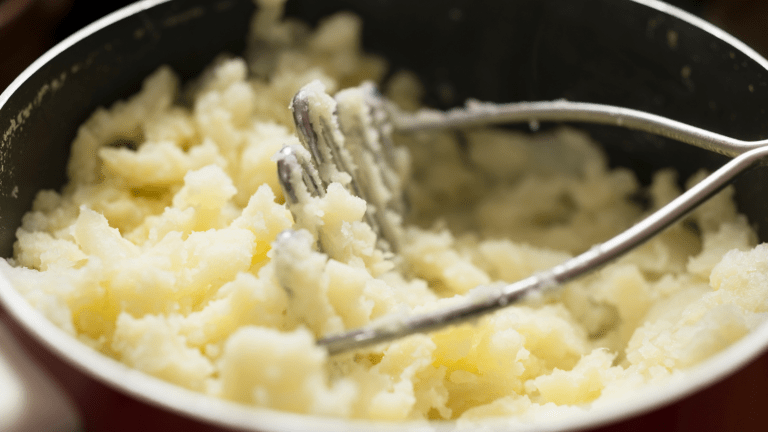 Publish date:
How to Get Ultra Creamy Mashed Potatoes
The secret to amazing and creamy mashed potatoes is using broth, trust us you're going to love this recipe for a memorable holiday meal.
Whether you like it or not, the holiday season is approaching. To prepare our team is working on several gift guides and searching for entertaining and recipe ideas for the upcoming season. During a recent event with Swanson Broth, I learned some new ways to cook with their broth as well as learn more about how to cook with their new line of flavor-infused broth. I now have a favorite recipe and I want to share how to get ultra creamy mashed potatoes.
Related: Classic green bean casserole recipe
Starting with the new line of flavor-infused broths, I had the chance to taste the three new varieties of broth. Created to enhance food with unique flavors, these flavor-infused broths are a great way to enjoy meals without having to locate hard-to-fin ingredients. This is also a time-saver for parents who want to have a diverse menu at home but are crunched for time. 
During the event, Chef Christopher Tanner made unique recipes using these broths. I really loved how the flavors enhanced the meals without using complex ingredients. The flavors were rich and layered - making them ideal for entertaining and quick meals at home.
For the holidays, Chef Christopher Tanner gave us some amazing food ideas where he used the various broths such as Swanson Chicken Broth, Cooking Stock, and Limited-Edition Turkey Stock to make some memorable meals for the holidays.
Ultra Creamy Mashed Potato Ingredients
2 cups Swanson Chicken Broth
Large potatoes (about 2 1/2 pounds), peeled and cut into 1-inch pieces (about 7 1/2 cups)
1 cup light cream
2 tablespoons butter
Generous dash ground black pepper
Ultra Creamy Mashed Potatoes Directions
Heat the broth and potatoes in a 3-quart saucepan over medium-high heat to a boil.
Reduce the heat to medium. Cover and cook for 10 minutes or until the potatoes are tender. Drain the potatoes well in a colander, reserving the broth.
Mash the potatoes with 1/4 cup reserved broth, the cream, butter and black pepper. Add additional reserved broth, if needed, until desired consistency.
More Ideas for Your Mash
Flavor Variation: For Ultimate Mashed Potatoes, stir 1/2 cup sour cream, 3 slices bacon, cooked and crumbled (reserve some to sprinkle on top), and 1/4 cup chopped fresh chives into the hot mashed potatoes. Sprinkle with the reserved bacon.
Easy Substitution: For Ultra Creamy Sweet Potatoes, substitute 2 large sweet potatoes (about 2 pounds), peeled and cut into 1-inch pieces (about 5 1/2 cups) for the potatoes. Makes 5 servings.
With the holidays coming it was great to learn some ways to enhance my meals in such an easy way. I generally think of broth for soup but with Swanson, I know have a whole arsenal of unique and tasty recipes to share with my family and friends.
TO HELP YOU PREPARE FOR THANKSGIVING CHECK OUT OUR FAVORITE POSTS:
PIN IT!
Use Pinterest to save your favorite crafts. Be sure to follow our Thanksgiving and Halloween Crafts Board.
Momtrends was not paid for this post. We were given a goody bag at the event.