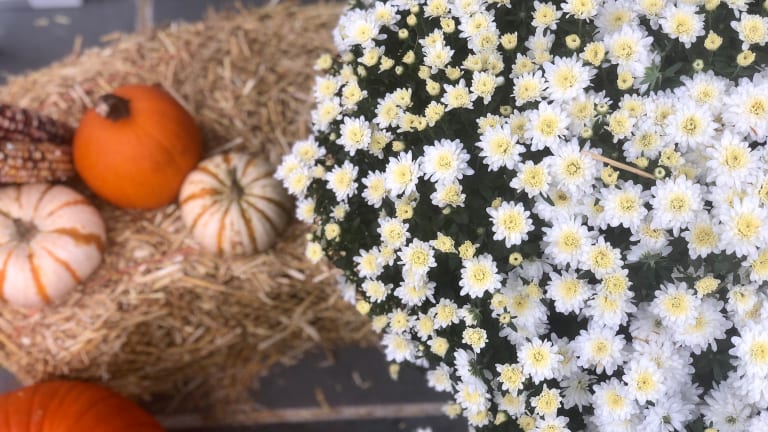 Publish date:
How to Fall-ify Your Stoop
Embrace Autumn Inside and Outside Your Home
I am that basic girl who loves everything about autumn. Pumpkins, sweaters, boots, leaves, and lattés--I adore this time of year in all its Instagrammable glory.
Related: Why your home needs more candles
The chill in the air and the color in the trees; I enjoy spending these fleeting months outdoors. Football games, parades, barbecues, beach walks, and playground adventures--I can't get enough of it.
As a pumpkin picking, orchard hopping, corn-husk peeling enthusiast, I want to bring a touch of fall ambiance to my alfresco scene at home. I dream of a big porch with white rocking chairs and baskets of mums and bales of hay and gourdes galore. But those who live in a small cottage or NYC apartment can empathize, knowing that the real-estate struggle is real. My tiny house affords me just an itty-bitty stoop to decorate. Still, I make the most of it. I cover every inch with a piece of autumn prettiness.
Play with height and stacking - With only a little bit of surface area to cover, I have to be smart, which is why I stack pumpkins on a bale of hay. The layering helps the area look full but also leaves some open space.
Go with a single bright color of mums - Don't get me wrong. I love all the mum hues--deep eggplant purples, wicked oranges, and sunny yellows, but a crisp white color brightens up my limited space and gives an illusion of airiness. 
Break Out the Faux Corn Husks and Acorns - Want to break up the sea of orange and white? Add corn husks, acorns, or pine cones to your scene.
Use windowsills - Don't have any outdoor space? Place small planters with mum on you  windowsills or line with a row of small multicolored gourds for a festive touch. 
MORE FALL TRENDS FROM MOMTRENDS
PIN IT!
Use Pinterest to save your favorite ideas from Momtrends. Be sure to follow our Home Inspiration board here.
This is not a sponsored post.